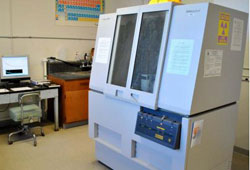 X-ray powder diffraction is an important method for the characterization of crystalline materials. Measurements can lead to routine phase identification, unit cell determination, crystallite size, and in some instances, structure determination. Our Institute has two X-ray powder diffractometers for rapid analysis of materials. Sample preparation is usually easy and quality data sets can usually be obtained in about an hour.
Specifications and capabilities of panalytical X'PERT PRO
Theta-theta geometry
Copper K-alpha radiation (λ = 1.5418 Å)
Search-match capabilities with extensive ICDD database
Constant horizontal orientation allows for stable sample over entire data collection
Air sensitive samples can be measured
Unit cell refinement possible on some samples
Crystallite size determination also possible on some samples
User Rates
Rates will be based on an hourly or per sample basis.
Hourly rates for instrument use
Assisted Use: $20/hr.*
---
Training: $25/hr.
---
Self-Use: $10/hr.
---
Consumables charged at cost.
*Special discount for multiple samples may be available.
Contact Us
Dr. John Wiley
Email: jwiley@uno.edu
Sample Data