Data Engineering Lab (DEL)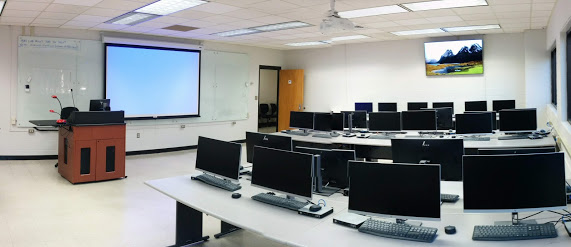 The Data Engineering Lab (DEL) is located on the second floor of the Mathematics building in room 212 (Math 212). DEL is a fully equipped computer lab designed to offer both in-person and digital learning technologies such as: lecture venue, flipped classroom, digital video recording, and real-time video/audio streaming capabilities. This computer lab seats 32 people and is specifically tailored towards computer science coursework and IT training sessions. The department uses this lab space for computer science lectures and labs, technology workshops, student presentations, computer science student organization sessions, and community outreach initiatives such as summer coding camps and programming competitions.
Lab Features:
Hybrid Learning Space
The Data Engineering Lab is configured as a versatile workspace, facilitating multiple instruction approaches including: lectures, labs, and digital learning.
Lecture mode: In traditional lecture-based environments, students face forward unobstructed from monitors to focus on the instructor podium, main projector, and whiteboard.
Lab mode: In workshops or application-driven environments, students can use the lab computers and may simply look up towards the side flanking TVs to easily follow along with the instructor without taking eyes off their own computer screens.
Digital mode: The lab is fully equipped with cameras and tvs to allow for streaming video/audio sessions.
Streaming Video/Audio
The Data Engineering Lab is fully equipped for live streaming and video recording using either Zoom or Panopto video conferencing software systems.
Zoom Video Conferencing
Zoom is a web conferencing system with full audio, video, and screen sharing capabilities. Zoom is compatible with Windows, Mac, and Linux platforms. Zoom provides instructors the capability to video record and archive entire lectures where students may then access via their UNO Moodle account. Session recording and transcription allows students to learn at their own pace. Zoom allows instructors to live broadcast lectures to offsite students in realtime. Additionally, guest speakers located remotely may digitally connect to this lab and video conference into the discussion or lecture.
Panopto Video Conferencing
Panopto is an easy-to-use screen and classroom-lecture capturing software. It can also be used to record, edit, and share recordings from other sources including webcams, smartphone cameras - any device capable of creating standard audio and video files. Panopto can capture your screen, audio, and/or video inputs from webcams and other devices to record live lectures, demonstrations, and/or supplemental materials. Panopto is integrated with Moodle so videos may easily be uploaded for students. However, Panopto also supports uploads to YouTube and Vimeo.
Ultra HD Pan/Tilt/Zoom Video Camera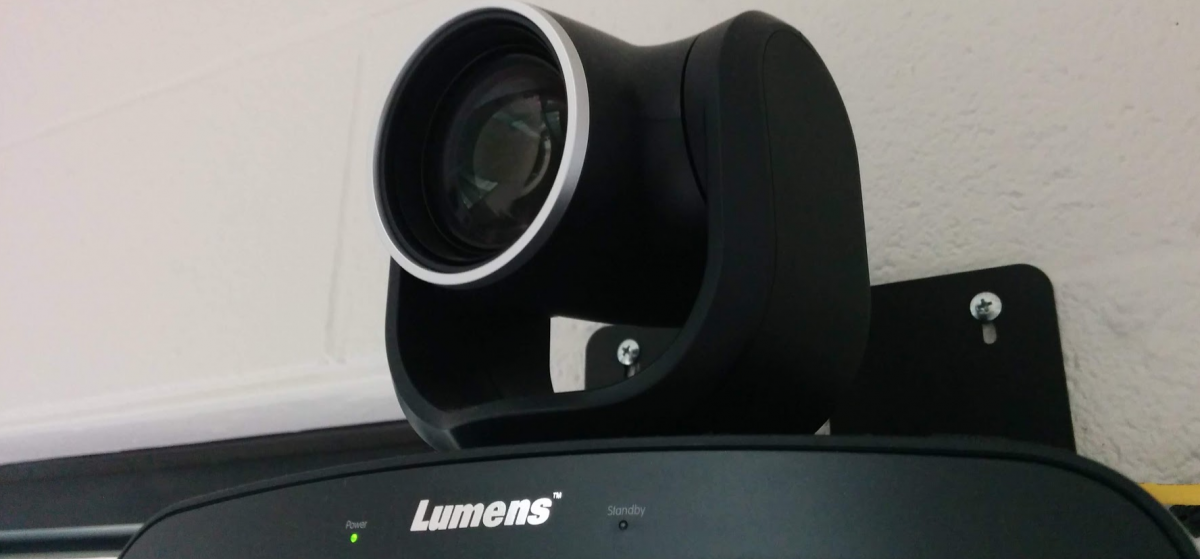 DEL sports as Lumens 4K Ultra HD Pan/Tilt/Zoom camera, offers 12x Optical Zoom, 4K Pan/Tilt/Zoom (PTZ) Video Camera. This camera provides HD video and audio offering students exceptional clarity and quality for either virtual or hybrid classes. Camera controls for pan, zoom and tilt are readily available from the Crestron video controller located on the instructor podium.
HD Camera Features:
4K UHD 30fps and 1080P 60fps video signal output format
12x optical zoom with 2x clear Image zoom, total 24x zoom
74 degrees Horizontal Field of View (HFoV)
Maximum horizontal/vertical speed of rotation: 300 degrees/sec
Wide Pan/Tilt/Zoom mechanism:

Horizontal viewing angle: -170° to +170°
Tilting angle up to 90°, and down to -30°
Instructor Podium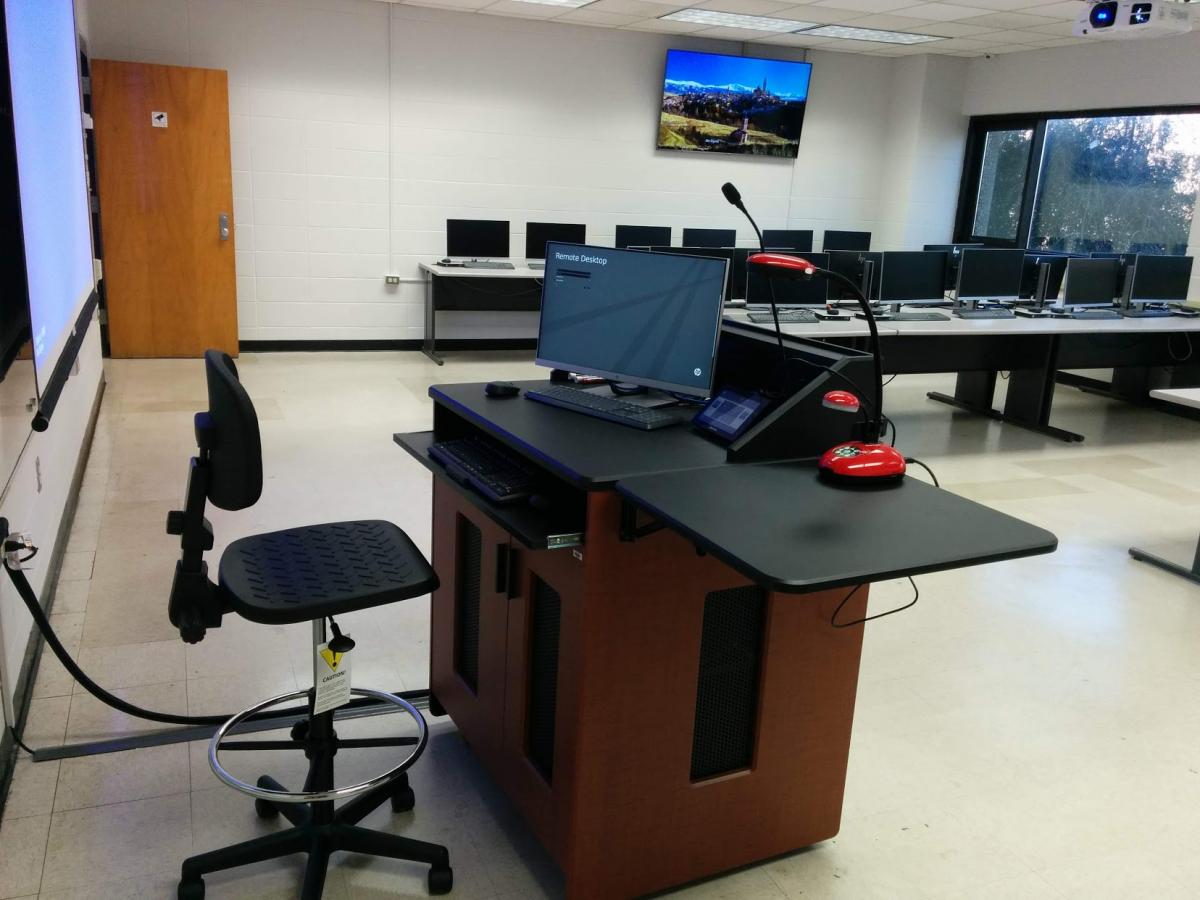 The Data Engineering Lab is furnished with a full sized instructor podium tailored to make the multimedia tools as accessible and easy-to-use as possible. The podium contains a workstation pc (Windows), thin client (Windows/Linux), or options for external laptop; with simple plug-and-play video inputs for either VGA or HDMI.
Creston Video Controller
The Crestron interactive touchscreen controller is located within the instructor podium and ensures that access to the lab's many multimedia hardware components such as projectors, tvs, and cameras is made as intuitive as possible. Just click the icons for source device and display device and the desired video feeds gets routed automatically.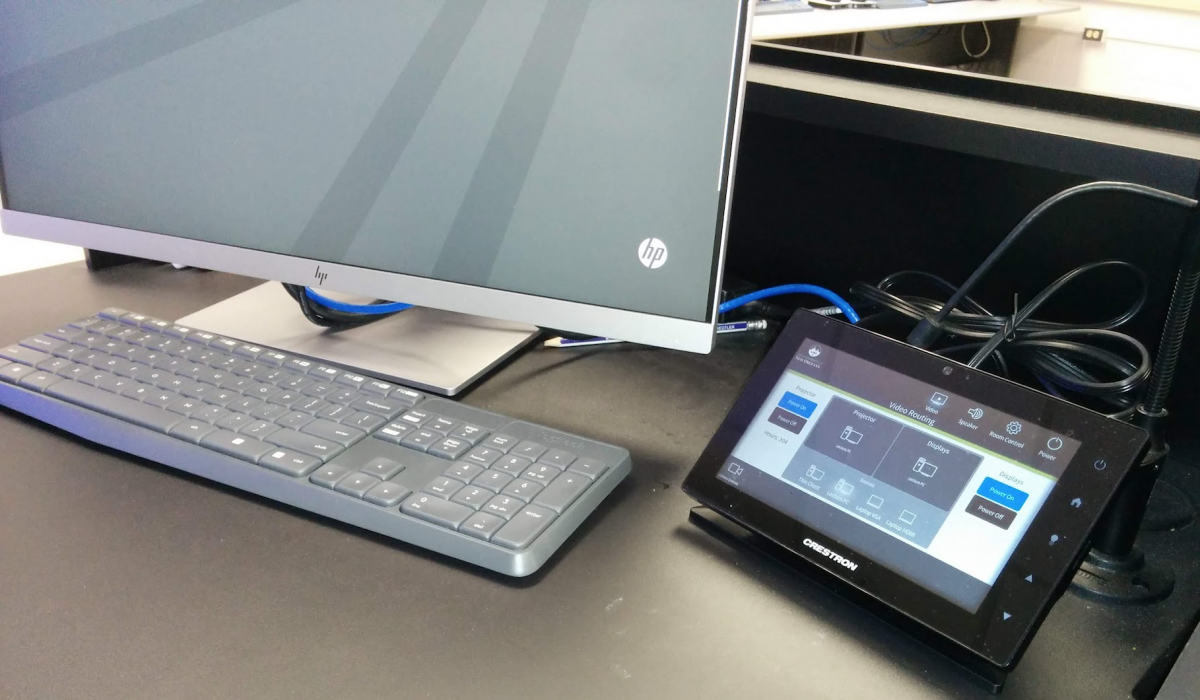 Lab Computers
The Data Engineering Lab is equipped with 32 student computers selected for both flexibility and versatility. It supports varying instructional needs and any type of technology stack. There are 32 thin clients which are networked to the department's dedicated server room which offers options to access either Windows or Linux desktop environments. Additionally, a persistent workspace is maintained by the departmental server room, where the student's workspace may even be remotely available outside of the lab machines. Student's workspaces are tied to their UNO credentials and not to a specific machine.
Multimedia Integration:
The Data Engineering Lab is equipped with two 65" TVs flanking the side walls and a high-powered projector displaying in the front.
All three displays are independently configurable from the instructor podium via the Creston touchscreen video controller. Instructors may route a video feed from: screen sharing, the HD camera, or from a document camera.
Whiteboard Wall
The Data Engineering Lab offers plenty of writing space with five glass whiteboards (6'x4') mounted to the front wall, providing 120 feet of writable surface area. Additionally, the projector screen may be retracted to allow instructors to annotate on top of projected images if necessary.