Marcus B. Christian Memorial Prize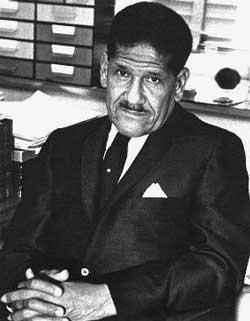 Marcus B. Christian, the renaissance man, climaxed the last seven years of his life as a popular lecturer in English and History at UNO. A self-taught printer, itinerant historian and poet, Christian's lack of formal letters limited his brilliant career to self-published historical pieces and poems and a massive unpublished History of the Negro in Louisiana. While his earlier contributions to The Journal of Negro History and Opportunity attested to his scholarly ability, his late "discovery" resulted from a guest appearance at UNO's black history celebration in 1968. Students and faculty alike urged the university to add him to its faculty. He was hired on a part-time basis for one year, but his highly popular courses on African Americans in Louisiana and the Harlem Renaissance continued until 1976, when his teaching career ended when he collapsed in his classroom, followed a few days later by his death.
The history department faculty selects the winner of the prize each spring semester.