Phi Alpha Theta is an American honor society for undergraduate and graduate students and professors of history. Founded in 1921, the society has over 350,000 members, with about 9,500 new members joining each year through 860 local chapters. We invite you to join your University of New Orleans chapter.
Students interested in applying must have at least 12 hours of history courses, a 3.1 GPA in history and a 3.0 GPA overall. Membership is not limited to history majors. Graduate students are also encouraged to join.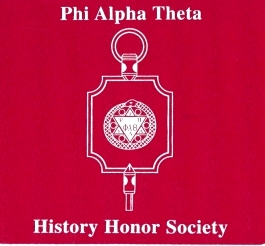 Membership in Phi Alpha Theta adds a mark of distinction to your resume. Members also receive four issues of the journal Historian, and have the opportunity for publication in it. Phi Alpha Theta also offers a range of scholarships for undergraduate and masters' students, as well as prizes for papers.
Phi Alpha Theta serves as the vehicle for student activities within the department, with non-members welcome to participate. Depending on student interest, a variety of activities are organized from hosting lectures and panel discussions to film nights and field trips to assisting with historical exhibits. Phi Alpha Theta also sponsors regional and national conferences for students to present their work — a great distinction.
Questions?
For more information on membership in UNO Phi Alpha Theta, please contact John Fitzmorris, Ph.D.