Marc Landry, Ph.D.
Assistant Professor
Joseph Logsdon Professor in Undergraduate Education
Associate Director, Center Austria
Contact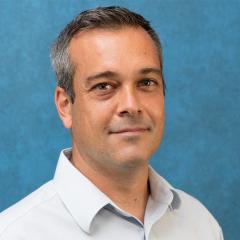 Education
Ph.D., Georgetown University, 2013
About
Marc Landry is an environmental historian of modern Europe, with a regional focus on Central Europe. His research interests center on the environmental history of Europe's tumultuous nineteenth and twentieth centuries, particularly the environmental contexts of industrialization and the two world wars. His research has appeared in the journal Environmental History. As Associate Director of Center Austria, he has begun co-editing its annual journal series Contemporary Austrian Studies. Currently he is completing his book manuscript on the transformation of the Alpine landscape by hydroelectric dams. Landry has held fellowships from the German Academic Exchange Service (DAAD), the Deutsches Museum, and the Institute of Electrical and Electronic Engineers. He was the Fulbright-Botstiber Visiting Professor in Austrian-American Studies at the University of Innsbruck in 2016.
Dr. Landry owes a great deal to the University of New Orleans. As an undergraduate, he studied for a year in UNO's Academic Year Abroad program in Innsbruck. The experience launched him on the path of becoming a historian, and led to him meeting his wife, a South Tyrolean, there. Thanks to UNO, Innsbruck has become like a second home for him. He has taught as a visiting professor at the University of Innsbruck and relishes teaching at UNO's international summer school there as well.
A native of Colchester, Vermont, Landry grew up Nordic skiing in the winters and running in the short period of time when there was no snow on the ground. Nowadays he spends most of his free time scrambling to keep up with his two busy children.
Courses Taught
Modern World History
History of the Habsburg Empire
Postwar Europe
Environmental History
History of Modern Germany
Modern European History
Energy History
Research Interests
Modern European, Central Europe, Environmental, World, Energy