Jeffrey Robert Rinehart, MFA, BA
Assistant Professor - CORE Studio
Graduate Coordinator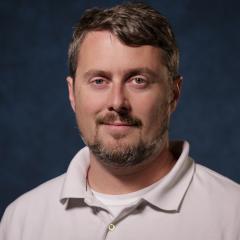 Education
MFA - Fine Arts - University of New Orleans
BA - Studio Art - Eastern Washington University
BA - Graphic Communications - Eastern Washington University
About
As a youth Jeff grew up in a military family and spent time all over the United States. His father was a Naval photographer and he was encouraged to explore the places he lived through photography. In college he was able to explore design and drawing and developed a real interest in the ways artistic mediums overlap and support each other. Jeff has been living and working in New Orleans since 2005 and was a founding member of "The Front" art space and collective. Most recently, Jeff was the art director and lead designer for the 2019 Louisiana State Hazard Mitigation Guide. He is currently the head of the CORE studio area in the Fine Arts department and is the overall program coordinator for the department.
Teaching Philosophy
As an artist and educator, I believe in the power of experiential learning. Communicating through shared experience is one of the strongest ways we inspire students. When students in the classroom feel open and comfortable, I have found they internalize technical information at a higher capacity. As an instructor I am not just there to teach but to provide a structure that promotes growth and exploration. My lesson plans revolve around open dialogue, technology and the understanding that learning never stops. With the current landscape of technology entering all areas of educational research, especially the arts, I have found that every student needs to be able to explore their chosen areas of research through physical engagement, interdisciplinary collaboration and creative problem solving to fully understand the realities facing them outside of the university environment.
Research Interests
As an art researcher I spend my time exploring the history of mechanical reproduction. That history has had a dramatic influence on the way communication has grown and changed over time. The richness of the relationships between printed form and the underlying content is very influential to me when I begin to construct a piece. Through the process of mining printed material, I am able to extract the inherent qualities in order to construct my own personal understanding of the essence of the image. My recent image-based work explores the subtlety of light and form while focusing on unconventional constructions of antiquated and discarded objects and the rituals that develop during the process. I deconstruct accepted ideas about the presentation of art objects by using multiple forms of printing to reassemble them again, while manipulating, questioning and re-establishing original contents and meaning. This work has taken me into areas of 3D animation and design as well as industrial fabrication and printing tools. These tools and processes allow me access to conceptual platforms that traditional art media and forms can't reach by themselves.
Honors and Awards
PI - The Creation of a Digital Animation Studio Grant – Board of Regents of the State of Louisiana CON000000002264 - $94,728 - June 2016
Beyond Printmaking 5 – Judges Award – January 2017
Juried Exhibition – Texas Tech University