Gilda Werner Reed, Ph.D.
Contact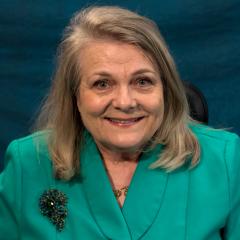 Education
Dr. Gilda Werner Reed attended the University of Southwestern Louisiana, Tulane-Newcomb and the University of New Orleans earning her degrees from the University of New Orleans. Her Ph.D. is in Applied Biological Psychology in 1996 with a dissertation entitled "Effects of MIF-1 and morphine on rats in the conditioned place preference paradigm."

Dr. Reed has been teaching at the University of New Orleans since 1994 and presently teaches eight different courses both on campus and online. Her focus is 100% on teaching, and she teaches several hundred students per semester. Though Applied Developmental Psychology is her minor rather than her major, Reed is drawn to it due to her extensive experience in child and adolescent development. She has been married to the same great guy since 1967 and together they have 7 children including 2 adopted with disabilities. Gilda claims to have forgotten which ones they are. Of their many grandchildren, 2 died from mysterious birth defects and 2 are adopted and of Maya Indian/Hispanic ethnicity from Belize.

Reed serves on the Student Accountability Committee to review cases of student violations of the UNO Judicial Code. She also serves on the UNO Distance Learning Committee, the UNO General Education Committee, the Psychology Department Undergraduate Committee, the Interdisciplinary Studies Faculty, undergraduate honors and thesis committees, ongoing service with Honors Option, past disability panelist for UNO Diversity Week.
Gilda is a staunch public school advocate and has a special interest in the rights of children with disabilities. She attended the 1992 Inclusive Education Statewide Conference in Baton Rouge held in conjunction with the Louisiana State Planning Council on Developmental Disabilities. Besides parenting 2 children with special needs, Reed, a polio survivor, has disabilities of her own.

In addition to her full-time teaching and family load, Reed also guest lectures on campus as well as off campus. Included in the talks she has delivered: 1996 Colloquium Series at UNO, commencement address to the 1998 graduating class of Old Dominion University's Graduate School of Physical Therapy in Norfolk, Virginia, several for UNO's Speakers Bureau, several for community/church groups, teacher in-service, the LA Therapeutic Riding Association Annual 2006 Convention in Baton Rouge, 2007 keynote speaker for UNO's Psi Chi Honor Society Induction Ceremony, 2007 keynote speaker for UNO's Golden Key International Honor Society, 2007 political forum moderator for students, 2008 speaker for Pearl Williams' Women in Business Breakfast in Slidell, speaker for 2008 Democratic Rally in Abita Springs, speaker for the 2009 Jefferson Parish Trailblazers' Banquet, keynote speaker on health care for October, 2009 Gillispie Memorial Breakfast, healthcare reform activist in 2009 to organize rallies, vigils and pressors, panelist for the May, 2010 Campaign Workshop in St. Tammany, 2014 activist for acceptance of Medicaid dollars with press events in Baton Rouge and Houma and rally in N.O., keynote speaker on Medicaid expansion for JPDEC May, 2014 fundraiser.
2013-2014. Nominee for First Year Advocate Award.
November, 2013. Outstanding Faculty Award; Omicron Delta Kappa- UNO Circle.
2011-2012. UNO International Alumni Association Excellence in Teaching Award
April, 2014. 1 of 32 top professors in Conquer College: The Resource Center For Students
January 18, 2013. UNO Magazine feature.
December 1, 2012. The Psychology Times, page 10.
May 1, 2012. The Psychology Times, page 1.
April 9, 2012. Appears as one of the top 13 professors in Huffington Post article.
April 3, 2012. Appears as one of the top professors nationwide in the book The Best 300 Professors (Random House/Princeton Review).
January, 2010. Honored at UNO Athletics Faculty Appreciation Night.
April, 2009. Named Professor of the Month by Sigma Kappa Sorority.
2007-2008. Chosen as #21 professor in the nation on Rate My Professors (the only Louisiana educator to land in the upper 25).
November, 2006—May, 2008. Campaigned for the U.S. House of Representatives, LA-01, requiring speeches, forums, debates, meet and greets, television, radio and print interviews. Won her primary in March, 2008 and lost the special election in May, 2008. During the long 18 months of campaigning, Reed continued to teach full-time at UNO. Likewise, she did not stop teaching in the aftermath of the broken levee fiasco post-Katrina.

Gilda Reed was selected 2008 Louisiana Woman of the Year by BayouBuzz.com. One of her most prized honors came with being unanimously voted in January, 2009 to become an honorary member of the Jefferson Firefighters Association Local #1374 for her steadfast work supporting the firefighters in their dispute with the parish. She was honored for her service to Jefferson Parish with a Trailblazer Award in March, 2009.
Dr. Reed serves on the Board of Directors of Goodwill Industries of Southeast Louisiana, Inc., as well as on their Business Committee. She is an elected member of the Jefferson Parish Democratic Executive Committee with service as 1st Vice-Chair, and Chair of the subcommittees of By-Laws and Endorsement/Elections. She is an elected member of both the Louisiana Democratic State Central Committee and its Executive Committee plus served on the Resolutions Committee in the past.