The National Honors Society in Psychology
Psi Chi is one of the largest honor societies in the United States with over 1,000 chapters. The goals of Psi Chi are to encourage, stimulate, and maintain excellence in scholarship, particularly in psychology, and to advance the science of psychology. To achieve these goals, Psi Chi offers a wide range of local, regional, and national programs.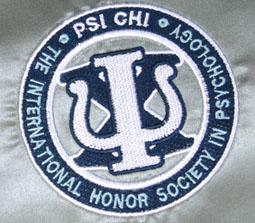 At the national level, Psi Chi holds meetings in conjunction with the American Psychological Association (APA) and the American Psychological Society (APS). Psi Chi sponsors national and regional undergraduate and graduate research award programs, undergraduate research conferences, and publishes a national magazine, Eye on Psi Chi, to inform Psi Chi members of opportunities at all levels. The magazine is free to members. In addition, the Psi Chi Journal of Undergraduate Research publishes papers authored by Psi Chi members.
The University of New Orleans chapter of Psi Chi is almost 50 years old. Psi Chi members are very active in the department and in the community. For example, each year the UNO Psi Chi chapter sponsors a Graduate School Information night and a Career Night designed to inform psychology students about opportunities post-graduation. Our chapter also participates in departmental peer advising, fundraising, campus events, social outings, and service projects (e.g., Habitat for Humanity, Second Harvesters, etc).

If you have any questions, please email us at psichi@uno.edu.