D'Lane Compton, Ph.D.
Chair
Full Professor
UNO Graduate Coordinator
Contact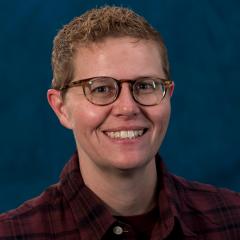 About
D'Lane R. Compton is a Full Professor of Sociology at the University of New Orleans. Their two major research interests are social psychology and the demography of sexual orientation. While these two fields may seem unrelated, their research utilizes both perspectives to examine sexual, gender, and family inequalities. Specifically, their research adds to our knowledge about how categorization or labeling processes yield different outcomes in treatment and resources.
This work has culminated in a number of peer-reviewed articles, book chapters, education essays, and two co-authored books including Same-sex Partners: The Social Demography of Sexual Orientation (SUNY Press, 2009) with Amanda K. Baumle and Dudley L. Poston and most recently Legalizing LGBT Families: Haw the Law Shapes Parenthood (NYU Press, 2015) with Amanda K. Baumle. This most recent book project, emphasizes the variability in the laws for LGBT families across the United States and provides an uncommon opportunity to focus on the contextual elements that shape family outcomes. This work draws upon this variation to highlight how individual characteristics, social networks, other legal actors, and contextual characteristics operate together to shape legal consciousness and makes an important contribution toward policy on LGBT families.
Additionally, Compton is interested in research design and methodological issues related to substantive concerns, in particular how different kinds of measurements can lead to different kinds of inferences and the best way to study underrepresented or "hidden" populations. Most recently, Compton has collaborated with Tey Meadow and Kristen Schilt on a new edited volume with the University of California Press (2018) entitled Other, Please Specify:________: Queer Methods in Sociology. This volume consists of original contributions by both qualitative and quantitative scholars of sexuality: it addresses methodological challenges when applying traditional sociological methods to LGBTQ populations. We highlight the strategies, practices, and contributions of a generation of sociologists trained in both sociological methods and queer theory.
Compton currently teaches undergraduate and graduate-level courses in Social Psychology, Gender and Sexualities, Research Methods, and Social Statistics. Dr. Compton has also taught at Texas A&M University and Davidson College before accepting a position at the University of New Orleans. They has also worked to reach beyond the academy via blog posts and tweeting. Compton is a regular contributor to Social (In)queery, Sociological Images, and Feminist Reflections and you can follow them on Twitter @drcompton.
Research Interests
Gender and Sexualities, Social Psychology, Research Methods, Family