Diane Baas
Associate Professor
Resident Lighting Designer and Technical Director
Production Manager
Contact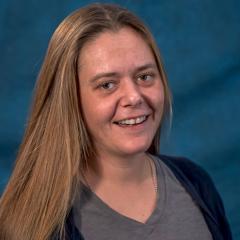 About
Diane K Baas is an Associate Professor of Design in the Department of Theatre. She is the Resident Lighting Design Faculty, as well as the Technical Director for the Department. She holds an MFA in Lighting Design from the School of Drama at the University of Washington in Seattle, a BFA in Lighting and Scenic Design, and a BA in Art History and Painting, both from Tulane University in New Orleans.
She is a frequent collaborator at many theatres in the greater New Orleans area, as well as nationally. She has worked with groups such as Tulane Summer Lyric Theatre, the Jefferson Performing Arts Society, ArtSpot Productions, Southern Rep Theatre, Maryland Ensemble Theatre, the Bloomsburg Theatre Ensemble, Cornerstone Theatre, the Radical Buffoons, and In Good Company, a national collective, where she is an active member. She is a member of several national professional organizations, including the Network of Ensemble Theatres, AlternateROOTS, USITT, and TCG.
In addition to Lighting Design, she teaches courses in Basic Visual Design, Computer Aided Drafting, Stagecraft, and the History of Architecture and Décor.