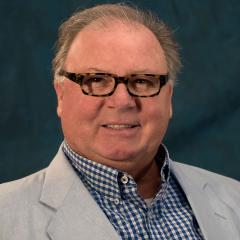 About
Professor Hoover's directorial credits at UNO include a tropical A Midsummer Night's Dream, Of Mice and Men, The Imaginary Invalid, Candida, Ghosts, Assassins, The Two Gentlemen of Verona, Educating Rita, The Merchant of Venice, and the Big Easy award winning productions of Blood Brothers and Metamorphoses. For the Tennessee Williams New Orleans Literary Festival he has directed Alec Baldwin, Elizabeth Ashley, John Goodman, Stephanie Zimbalist, Eli Wallach, and Anne Jackson.
In New Orleans his work has been seen at Le Petit Theatre du Vieux Carre, Tulane Summer Shakespeare Festival, Rivertown Rep, Le Chat Noir, Southern Rep, and Tulane Summer Lyric. He has worked at several other prestigious theatres including The Guthrie, the Dallas Theatre Center, American Southwest Theatre Company, Shakespeare Festival of Dallas, and The Lyceum. Professor Hoover is the recipient of the Big Easy, Marquee, and Storer Boone awards, having been recognized recently for acting work in The History Boys. He has directed four original scripts for KCACTF, two of which received National recognition. He is a member of the Society of American Fight Directors, ATHE, and the Southwest Theatre Association.
Productions he has directed have been invited five times to the Regional Festival of the Kennedy Center American College Theatre Festival and his MFA Directing students have been invited three times and were all later invited to the Kennedy Center. Three of his acting students have won the Irene Ryan Acting Competition and represented Region VI at the Kennedy Center. Internationally he has been an adjudicator in London, lectured at the Universite de Sorbonne in Paris and has taught extensively in Italy and Mexico. Professor Hoover is the recipient of the Artist Fellowship award from the Louisiana Division of the Arts; the first award of its kind made to a director. He was recognized recently by the University of New Orleans Alumni Association with an award for Career Achievement for Excellence in Research.