Cheryl Hayes
Professor Emeritus - Painting and Drawing
Contact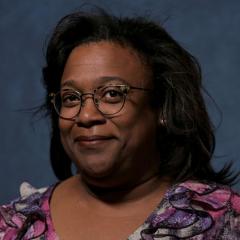 Education
Bachelor of Arts in Fine Arts, The University of New Orleans
Master of Fine Arts, The University of New Orleans
Post Graduate Studies, Tyler School of Art, Temple University
Post Graduate Studies, The British Museum, under Dr. James Putnam, Director of Egyptian Antiquities
About
Cheryl Hayes is tenured faculty member of the Department of Fine Arts. She is retiring in May of 2020. She has taught courses in painting, drawing, printmaking and art Appreciation for more than three decades. She has served as bout Associate Professor and Professor of the Department of Fine Arts.
Teaching Philosophy
Teaching is a privilege that is a commitment to the enlightenment of students and the mutual exchange of ideas and information. It is the responsibility of every instructor to not only assist their students in achieving their academic goals within the structured environments of the the studio labs or from the lectern, but also to continue to pursue and accumulate information from their field of expertise and to remain consistently active in their participation as well as their research and scholarship.
Research Interests
Cheryl Hayes is an exhibiting artist, primarily of painting and drawing, but also sculpture and printmaking. Her artwork for the past ten years has been focused upon a hybrid of stylized representation and abstraction in miniatures. She has exhibited in New Orleans at TEN Gallery, Good Children Gallery, Barrister's Gallery and The UNO St. Claude Gallery. She has exhibited her work nationally in Texas, New York, Illinois, Tennessee, Mississippi and Georgia. She has exhibited her work internationally Tokyo Japan, Paris France, and London England. Cheryl Hayes has an upcoming exhibition at The Front Gallery, New Orleans in April of 2020.
Honors and Awards
Trish Hollis Endowed Professor of Design