Ashleigh L. Pelafigue, Ph.D.
Assistant Professor of Elementary Education
Contact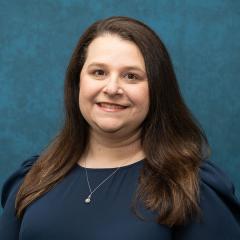 Education
Ph.D., Curriculum & Instruction – Literacy & Language, University of New Orleans, 2018
M.Ed., Curriculum & Instruction – Reading Specialist, University of New Orleans, 2012
B.S., Early Childhood Education, University of New Orleans, 2008
About
Dr. Pelafigue earned her B.S. in Early Childhood Education from University of New Orleans and immediately joined the ranks of public-school teachers in Orleans Parish. She continued her education, pursuing a Masters Degree with a focus on literacy acquisition, while concurrently teaching kindergarten through second grades. Dr. Pelafigue went on to earn her doctoral degree specializing on literacy and language development and educational research while teaching in Jefferson Parish Public Schools in 2018. While serving as a classroom teacher, mentor teacher, and Master Teacher, she gained extensive experience with literacy development of early childhood students, teaching and learning in grades PK-8, experiential learning and the impacts on student performance and motivation of students in economically disadvantaged communities.
During Dr. Pelafigue's 14-year career as a classroom teacher she supported 10 University of New Orleans student teachers and residents who went on to work in Jefferson and Plaquemines Parishes. She devotes her time to supporting her students' growth to become effective, reflective, & inspirational teachers by building strong classroom cultures and using cycles of feedback to ensure all students are on track for success.
Research Interests
Early Childhood Education
Early Literacy Development
Experiential Learning
Teacher Development
Adult Learner Motivations and Impacts on Continuing Higher Education