Ariya Martin, MFA
Assistant Professor - Photography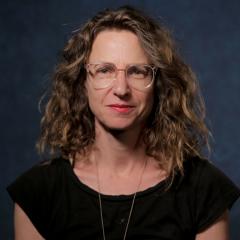 Education
MFA, Rochester Institute of Technology, Imaging Arts-Photography
BA, University of Montana, English Literature
About
Ariya Martin works from personal narrative and daily life. Recurrent imagery of everyday, mundane items and acts, are examined through individual images, videos, sound and text; or collectively as installations. She received her Masters of Fine Arts in Imaging Arts-Photography from Rochester Institute of Technology and has worked at significant photographic institutions, George Eastman House and Kodak. Recently, she has concentrated on community building collaborative endeavors and her teaching includes socially engaged practices associated with activism. Ariya co-founded One Bird, a non-profit organization dedicated to community arts programs that work with children, using photography, writing, mixed media and emerging technologies in order to assist them in sharing their stories, and most recently spent summers working with youth in Haiti. As a founding member of Southerly Gold, an all-female photography collective, she recently was awarded a Platforms Grant that facilitated the publication of a six book-set, God's Country. She is Assistant Professor of Photography at the University of New Orleans. She has been exhibiting for 15 years nationally and has shown regionally at the Contemporary Art Center New Orleans, Martine Chaisson Gallery, The Front, Ogden Museum of Southern Art, Good Children Gallery and Acadiana Center for the Arts.
Teaching Philosophy
Photography teaches us how to observe and think critically about our surroundings and is a powerful medium that increases students' involvement in the moment. It is understandably argued to be the most democratic of art forms; it demands that we attend to, witness, and engage with the world around us. Inherent in this process are concerns about the speed with which our surroundings are continually changing and the notions of truth. Therefore photography is a peculiarly personal method for considering one's perspective. Looking back on my own education, both in and out of the field of photography, I recognize how special and essential those teachers and classes were that encouraged conversation, hands-on practice and personal growth. When teachers manage to maintain structure, while relaxing control and allowing each student to have a voice, the classroom becomes a dynamic space. When students get discouraged I remind them that the process inheres in the practice. Struggle can no more be avoided than inspiration. If a student feels really stuck, I might suggest going to the library to look at artists whose work rejuvenates them; taking a walk with their journal and/or camera, drawing, viewing films, or writing to help lift mental blocks. I am comfortable working across disciplines and welcome this investigation from my students. Working closely with other faculty in the art department and elsewhere, through teaching in various countries and with various age levels, has also informed my own cross-disciplinary interests as an instructor. One of the most challenging and most rewarding aspects of creating is the moment in which we find the self-confidence to bring into the world an idea or project that did not exist before, except in thought. What I would like my students to realize is something that has taken me years to understand: learning works best as a dialogue, as a conversation. Ultimately, all that a teacher can do is provide the tools for learning. To truly internalize the lesson demands that you rely on, encourage and listen to yourself. This takes patience and discipline, but there is much to gain when you have both faith in your ideas and the courage to risk failing.
Research Interests
Whether I am making a photograph of a Southern landscape or one of my grandfather's record player, I seek to create contemplative images that speak about impermanence. The process of framing an image suits my sensibility and my relationship to photography because the act of taking a picture is about paring down complexity of thought and composition. I strive for simplicity and a quiet meditative experience when viewing the work. That doesn't mean I am always creating pleasant images. Tension can exist within the singular moment composed in a fraction of a second. Questions drive the work. They force me to search, and in the searching I create. Stringing clues together, forming loose narratives in order to find meaning in the momentary, or perhaps to see that all moments are fleeting and meaning less. I am interested in examining and using doubt and vulnerability- using my life as the source. I relate to the world better, I can make sense of it, when I am engaged directly with it. My engagement with it comes through visual and verbal communication, i.e., a camera, video camera, the written word and sound. As my art has evolved I have found it necessary, at times, to go beyond traditional modes of photographic representation, exploring installation with photographic elements, video and ephemera to more accurately depict the felt experience I am describing. My equipment is my collaborator. It acts as witness, creating distance to consider an experience, and a varying perspective to see something after time has passed, once the emotional charge has dissipated. Ultimately, the rigorous examination of my life, manifested as art, is also a dialogue, a call encouraging others to consider their own stories and relationships.
Honors and Awards
2019, Creative Opportunity Endeavor
2016 Platforms Fund
2014-2016, Art4Moore
2008, Gulf Coast Renewal Fund, Rockefeller Foundation