Anthony Campbell, MA, RCA
Assistant Professor - Printmaking
Director, UNO St Claude Gallery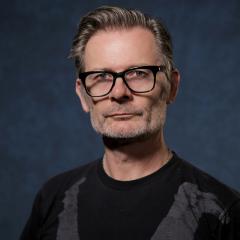 Education
1994 Royal College of Art, MA RCA (Fine Art Printmaking). London, UK. 1988 De Montfort University, BA (Hons) in Fine Art, Leicester, UK
About
Assistant Professor Anthony (Tony) Campbell was raised and educated in the UK, He studied painting at Leicester Polytechnic now re-named De Montford University and received an MA in Printmaking from the Royal College of Art in London, England. Tony Campbell is an artist in the collaborative practice of Generic Art Solutions (GAS) with artist Matt Vis. Generic Arts Solutions is represented by Mindy Solomon Gallery in Miami Florida. Tony is a founding and managing member of Good Children Gallery since 2008 and the Director of U.N.O. St. Claude Gallery since 2018. Campbell has served on the Board of the Contemporary Art Center of New Orleans and chaired the Artspeak a Artist talk committee from 2012-15. Generic Art Solutions were invited to the 6th iteration of the Rauschenberg Residency Program in Captiva Florida in 2014. GAS contributed in 2019 to Eat The Problem by Kirsha Kaechele Published by the The Museum of New and Old Art in Tazmania, Australia.
Notable exhibitions include: Pérez Art Museum Miami (PAMM) FL. New Orleans Museum of Art, LA; Los Angeles County Museum of Art, Los Angeles CA; Museum of Contemporary Art in Krakow, Poland; Zachęta National Gallery, Warsaw, Poland; MONA, Tasmania, Australia; Gallery 126, Cork, Ireland; Duplex 10 m² Sarajevo, Bosnia; Balzer projects, Basel, Switzerland; Dishman Museum, Beaumont TX; Cross McKenzie Gallery, Washington, DC; And X Gallery, Fort Worth, TX; Arcadia Center For The Arts, Lafayette. LA; Willis Smith Gallery Ringling College, Sarasota, FL; Moving Image Art Fair, New York, NY; Volta NY; Pulse Miami; C24 Gallery, New York, NY.
Teaching Philosophy
I have been teaching at the University of New Orleans predominantly in printmaking and photography for 9 years now. The University of New Orleans is a culturally diverse institution, with a full spectrum student body. As a state school in an inner city, with many of the cultural problems and challenges we see nationally, I frequently see students with less than equal opportunities. However, many demonstrate a drive to escape their circumstances and improve their future. As an educator I feel a responsibility to encourage students to find their voice and express their identity and discuss issues pertinent to their own lives. It is important to me that artists come from all walks of life. If art is to be a barometer of our culture it must reflect all of us.
Being educated in the United Kingdom at a time when a socialist democratic government had made education a possibility for all, I was able to attend Art School with a variety of people and social classes, including a lord's son and a miner's daughter. This was the generation of the YBA's in the UK, whose strength lay in the diversity of their voices. In my teaching I have found that students are most engaged when their projects are lead by an enthusiastic instructor. Enthusiasm is contagious and cannot be substituted. My art practice informs my teaching and feeds my enthusiasm. Whatever I am currently exploring in my work, whether it be the medium I'm using, the process or the ideas, I try to incorporate this research into the assignments I develop. This energizes the students' productivity in the print shop, as well as exciting me as an educator.
Printmaking is experiencing a renaissance. I find that students are easily engaged by the medium. I see this as a reaction to the ease of image-making today. The harder-won image therefore is given greater value. We long for the crafted image over the insta-gram. Whilst studying at the Royal College of Art, the philosophy I was taught was that traditionally printmaking was a discipline in which innovation and new technologies were developed and embraced. To be true to printmaking's roots, and to foster a healthy future for the medium, it must continue to incorporate new technologies. Printmaking cannot just become the archive for traditional processes, but must strive to keep all techniques alive by constant experimentation and research. I was also taught to explore printmaking's possibilities beyond the usual matted and framed wall-hung print, and to see the print as an object as well as an image. It has confounded me that Warhol and Rauschenberg's prolific output is assigned to painting rather than printmaking. Printmaking was fundamental to their success at capturing the essence of their time. In their hands print is both the medium and the message. This is the legacy that I wish to promote in the print shop, both teacher and student making and encouraging work that reflects the world we live in. Everywhere we look we see examples of printmaking surrounding us. This is a world where the multiple is king. We find ourselves constantly recycling and reposting our images, in a pharaoh-like attempt to insure our own immortality.
Research Interests
Generic Art Solutions is the collaborative efforts of Matt Vis and Tony Campbell. This New Orleans-based art duo utilizes nearly every art medium as they examine the recurring themes of human drama and the (dis)functions of contemporary society. Always rooted in the performative, they play every character in their work. In their more distilled "duets" we see something of a yin and yang (a balance between individuals that aren't quite interchangeable), but in their more elaborate stagings the resultant effect is as epic as the subject matter itself. By combining Classical, Romantic, and Baroque compositional elements with contemporary pictorial techniques, they manage to illuminate the common thread that connects past histories with current events. This strategy creates something of a "Déjà Vu effect" that is driven by drama and surreality with traces of levity. In this dialogue between the past and present the viewer realizes several things: 1) that the history of art is inextricably political, 2) that human behavior repeats itself no matter how tragic or brutal, and 3) that this cycle of repetition must be broken so personal and societal progress can be made. Despite all this, their work contains a glimmer of hope--a hope that through thoughtful examination (and armed with a commitment to change) we can indeed forge a better future.
Honors and Awards
2010 Silver Circle Sculpture Award – Contemporary Art Center, New Orleans , LA.
2008 Joan Mitchell Grant For Public Sculpture In the collections of: The Rauschenberg Residency collection, Captiva FL. USA
New Britain Museum of Art . CT. USA
New Orleans Museum of Art. LA USA
Museum of New and Old Art (MONA) Tasmania, AUS.
Museum of Fine Art , St. Petersburg, FL. USA.
Capital One Bank Art Collection.