Anna Mecugni, PhD, MPhil, MA
Assistant Professor - Art History
Internship Coordinator
Contact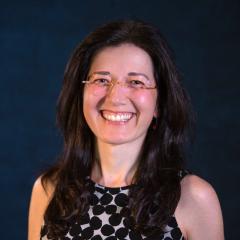 Education
Mecugni holds a Ph.D. and M.Phil. in Art History from The Graduate Center of the City University of New York, and a Laurea (equivalent to B.A. plus M.A.) in D.A.M.S.—Drama, Art, and Music Studies—from the Università degli Studi di Bologna, Italy.
About
Hailing from Modena, Italy, Dr. Anna Mecugni is a specialist of postwar Italian art and global contemporary art, with interests in social engagement, the intersection of art and politics, and interdisciplinary practices that promote justice and equity. Mecugni's research for the past several years has concerned the aesthetics and politics of tableau vivant and reenactment in 1960s and 1970s Italian art. Her current research and curatorial projects are dedicated to subjects ranging from participatory art in Italy in the long 1968 to contemporary activist art that builds on community engagement and listening practices to advance justice and equity.
Dr. Mecugni joined the University of New Orleans to lead the art history program in the fall of 2018. Earlier she taught at the University of Pennsylvania, Temple University, and Vassar College. She has extensive experience in museum education and the curatorial field, having worked at organizations ranging from grassroots arts centers to small academic galleries and large institutions such as the Philadelphia Museum of Art, the Museum of Modern Art in New York, and the Venice Biennale Foundation in Venice, Italy.
Mecugni's curatorial work since joining UNO include organizing at the UNO St. Claude Gallery a presentation of Angel Nevarez and Valerie Tevere's Another Protest Song: Karaoke with a Message (2008–ongoing), a participatory sound art work that explores the potential of political expression in communal karaoke singing; and the first New Orleans solo exhibition of Dread Scott, whose multi-media practice for the past thirty years has bridged art and activism. This show ran in conjunction with the culmination of Dread Scott's six-year-long social practice project to reimagine the 1811 German Coast uprising, Slave Rebellion Reenactment, in November of 2019. Starting in the summer of 2019, Mecugni collaborated with Nevarez and Tevere to produce The Slow Drop, a community-engaged project centered on New Orleans Musicians' Village, a post-Katrina affordable artist housing initiative that stands out as a unique example of community resilience to both climate change and gentrification. On October 8, 2022, the project culminated in a one-day live event celebrating the community of musicians and culture bearers who live and work in the Musicians' Village. The event featured a new sound art work, consisting of a spatial music performance by a group of resident musicians across the neighborhood, and an interactive Black Indian ancestral tribute that activist artist Cherice Harrison-Nelson spearheaded to honor founding resident Council Chief Joseph Jenkins of the Guardians of the Flame Maroon Society.
Dr. Mecugni has been invited to present her research at scholarly conferences in the United States, Canada, and Europe. Her writings have appeared in art magazines such as Art in America, Pelican Bomb, Museum Magazine, Artforum.com; and peer-reviewed publications including Palinsesti: Contemporary Italian Art Online Journal and The International Journal of the Humanities. She is co-editor with Carlos Basualdo of Embracing the Contemporary: The Keith L. and Katherine Sachs Collection (Yale University Press and Philadelphia Museum of Art, 2016); the author of Sergio Lombardo: Monocromi / Monochromes, 1958–61 (Silvana Editoriale, 2018); and the editor of a forthcoming bilingual volume (in English and Italian) dedicated to Italian artist Sergio Lombardo's pioneering late 1960s participatory installations that is funded by an award from the Italian Ministry of Culture.
Teaching Philosophy
I draw on my passion for community-engaged scholarship and curatorial work to design courses that emphasize high-impact educational practices by integrating classroom learning with hands-on, collaborative activities and real-world project applications that can best prepare students for the professional world.
Courses taught:
FA-1500 Introduction to Art and Visual Culture
FA-2202 Art History Survey II: Fourteenth Century to the Present
FA-2999 Theory and Practice of Art History
FA-3292 Internship in Fine Arts - Art History
FA-3293 Independent Study in Art History
FA-3333 The Body in Art: Gender, Sexuality, and Cultural Identity
FA-4267/5267 Contemporary Art: Postmodernism and Beyond (1970-Present)
FA-4270/5270 Special Topics in Modern and Contemporary Art
FA-4274/5274 Art Criticism
FA-4275/5275 Displaying Art: Museum and Exhibition History and Practice
FA-4281/5281 Modern/Postmodern
FA-4411/5411 Contemporary Art and Social Justice
FA-6999 Professional Development
Research Interests
Research areas include postwar Italian art, international contemporary art, women's and gender studies, art and politics, social practice art, activist art, sound art.
Honors and Awards
Mecugni's scholarly and curatorial work has been supported by grants from agencies such as the Louisiana Board of Regents, New Orleans Jazz & Heritage Foundation, New Orleans Mayor's Office of Cultural Economy, Harpo Foundation, and the Italian Ministry of Culture. For her teaching, she received a Provost's Award for Teaching Excellence by Non-Standing Faculty at the University of Pennsylvania. At the City University of New York Graduate Center, Mecugni's work was supported by several grants, including the Leon Levy Center for Biography Fellowship, Alumni Dissertation Fellowship, Graduate Center Research Grant, Graduate Center University Fellowship, Art History Program Fellowship, and the Mall Curatorial Fellowship. At UNO, Mecugni was awarded the Leveraging External Expertise Program and Creative Endeavor Opportunity grants.