Anna Mecugni, Ph.D., MPhil, MA
Assistant Professor - Art History
Internship Coordinator
Contact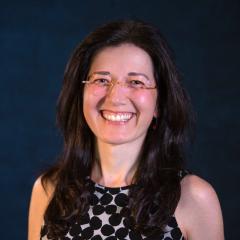 Education
Mecugni holds a Ph.D. and M.Phil. in Art History from The Graduate Center of the City University of New York, and a Laurea (equivalent to B.A. plus M.A.) in D.A.M.S.—Drama, Art, and Music Studies—from the Università degli Studi di Bologna, Italy.
About
Anna Mecugni is a contemporary art historian and curator from Italy. She joined the University of New Orleans to lead the art history program in the fall of 2018. Prior to that she held curatorial and teaching positions at the Philadelphia Museum of Art, the Museum of Modern Art in New York, the Venice Biennale, Vassar College, Temple University, and the University of Pennsylvania.
Teaching Philosophy
Having worked for a decade in museum education and the curatorial field before joining academia, I draw on my knowledge and experience to design courses that emphasize hands-on activities and real-world projects that can best prepare students for the professional world.
Courses taught:
- Art History Survey II: Fourteenth Century to the Present
- Modern/Postmodern
- The Body in Art: Gender, Sexuality, and Cultural Identity
- Art Criticism
- Displaying Art: Museum and Exhibition History
- Contemporary Art and Social Justice
Research Interests
Mecugni's research for the past several years has been concerned with the aesthetics and politics of tableau vivant and reenactment in 1960s and 1970s Italian art and international contemporary art. Her current research projects focus on activist art that builds on community engagement and listening practices to promote social justice and equity.
Mecugni's writings have appeared in Art in America, Pelican Bomb, Museum Magazine, Artforum.com, and scholarly publications including Palinsesti: Contemporary Italian Art Online Journal and The International Journal of the Humanities. She is co-author and co-editor with Carlos Basualdo of Embracing the Contemporary: The Keith L. and Katherine Sachs Collection, published by Yale University Press and the Philadelphia Museum of Art in 2016.
Honors and Awards
Mecugni's scholarly and curatorial work has been supported by grants from agencies such as the Harpo Foundation, the Italian Council, and the Leon Levy Center for Biography. For her teaching, she received a Provost's Award for Teaching Excellence by Non-Standing Faculty at the University of Pennsylvania. At the City University of New York Graduate Center, Mecugni's work was supported by several grants, including an Alumni Dissertation Fellowship, a Graduate Center Research Grant, a Graduate Center University Fellowship, an Art History Program Fellowship, and a Mall Curatorial Fellowship. At UNO, Mecugni was awarded a LEEP (Leveraging External Expertise Program) Grant.