Andrea Mosterman, Ph.D.
Contact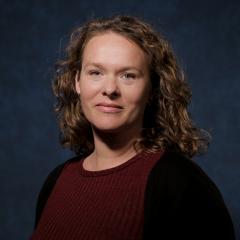 Education
Ph.D., Boston University, 2011
About
Andrea Mosterman completed her Ph.D. at Boston University, specializing in Atlantic and Early American History. She is currently working on a manuscript that examines exchanges and interactions between African and Dutch descendants in Early New York. Her broader research explores the multi-faceted dimensions of slavery, the slave trade, and cross-cultural contact in the Early Modern Dutch Atlantic. She is a recipient of various scholarships and grants, such as a Gilder Lehrman Fellowship, the Quinn Research Residency, and the Michael Kraus grant from the American Historical Association. She has published in, among others, The Journal of African History.
Courses Taught
Intro to African American History - HIST 1010
US History to 1860 - HIST 2501
Women in American History - HIST 2587
Colonial Period of American History - HIST 4501
Atlantic History - HIST 4991
Research Interests
Atlantic History, African Diaspora, Early America, Pre-Colonial Africa, Slavery and Slave Trade