Center for Equitable Transit Oriented Communities (CETOC)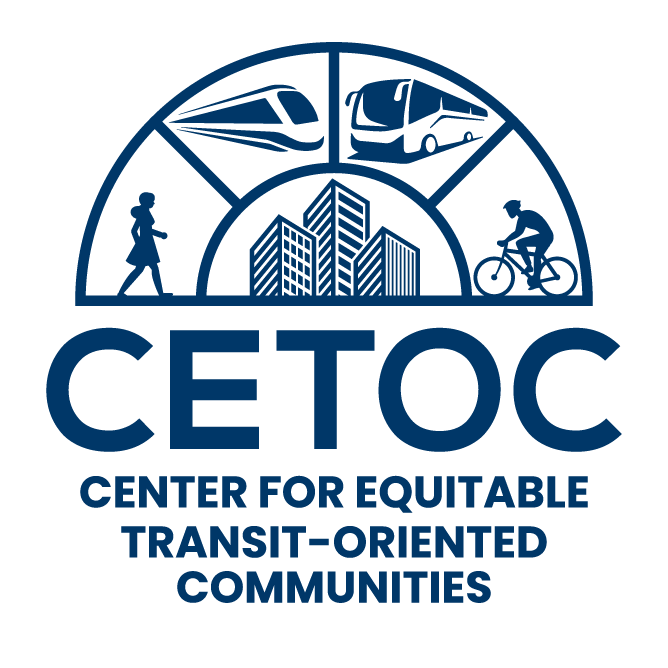 Mission Statement
CETOC's Mission is to cultivate transit-centered, equitable, and resilient communities that support residents' multimodal travel needs and preserve the environment.
Goals
Research: Advance scientific knowledge and identify innovations that can inform the planning and development of equitable transit-oriented communities.
Leadership: Cultivate a diverse group of visionary transportation leaders who will dedicate their careers and inspire others to advance public transportation and build equitable and resilient communities.
Education and Workforce Development: Train a new generation of transportation professionals with the knowledge and techniques needed to meet the challenges of the present and be prepared for the future.
Tech Transfer: Develop transformative products (e.g., tools, databases, methods, and strategies) to be widely adopted and implemented by the transportation profession for building equitable transit-oriented communities.
 
Program Description
The Center for Equitable Transit-Oriented Communities (CETOC) is a U.S. Department of Transportation, designated University Transportation Center.  It focuses on preserving the environment by promoting transit access, multimodal infrastructure, compact and efficient land use patterns, as well as resilience and climate adaptation.
"Transit plays a critical role in addressing the biggest issues we are facing today-climate and equity," says Dr. Guang Tian, the Director of CETOC and principal investigator at the University of New Orleans.  "Not only is transit a more efficient and sustainable mode of transporting people, but it may also be the only option for some people to meet their daily needs and depend on during disasters or other climate-related events." A transit-oriented communities creates and supports transit-dependent and resilient communities with multimodal transportation options, affordable and equitable housing options, and economic security.
CETOC is a consortium of five universities that consists of renowned transportation researchers and educators from University of New Orleans, Florida Atlantic University, University of Colorado, Denver, University of Florida, and University of Utah.  Florida Atlantic University is a minority institution and Hispanic Serving Institution.
 
Consortium Members