International Admissions
FOR ADMISSIONS CONSIDERATION
Only the following programs are eligible for I-20: 
M.A. (Arts Administration, English, History, Sociology), M.B.A., M.Ed. (Counselor Education, Curriculum & Instruction, Educational Leadership), M.F.A. (Creative Writing, Film & Theatre, Fine Arts), M.M. Music, M.P.A., M.S. (Accounting, Applied Physics, Biological Sciences, Chemistry, Computer Science, Earth & Environmental Science, Finance, Health Care Management, Hospitality & Tourism Management, Mathematics, Psychology, Tax Accounting, Urban Studies) M.S.E. (Engineering - Civil, Electrical, Mechanical, Naval Arch & Marine Eng.), M.U.R.P. Urban & Regional Planning, Ph.D.  Applied Psychology, Chemistry, Counselor Education, Educational Administration, Engineering and Applied Science, Financial Economics, Integrative Biology, Justice Studies, Urban Studies)
In addition to the requirements for domestic students, international students must submit the following items for admission consideration:
1. English Proficiency Requirement (can be unofficial copies)
TOEFL Test of English as a Foreign Language.  Internet-based test score of 79 total or Computer-based test score of 550. The institution code for reporting TOEFL to UNO is 6379.  
IELTS The International English Language Testing System Overall band score of 6.5
PTE Pearson Tests of English Academic score of 58
Duolingo Duolingo English Test Score of 105
IELP Intensive English Language Program Satisfactory completion of the Intensive English Language Program at UNO
Minimum Scores on IELP Test:
Listening Comprehension:  70
Grammar/Reading/Vocabulary:  65
Writing/Composition:  75
English proficiency requirement can be waived if applicant has a bachelor's or master's degree from a US college or university accredited at the institutional level by an accreditor recognized by the USDOE.
English proficiency is not required for applicants from the following countries:
Anguilla, Antigua and Barbuda, Australia, Bahamas, Barbados, Belize, Bermuda, British Virgin Islands, Canada (except Quebec), Cayman Islands, Dominica, Gibraltar, Grenada, Guyana, Republic of Ireland, Jamaica, Montserrat, New Zealand, Nigeria, St. Kitts and Nevis, St. Lucia, St. Vincent and the Grenadines, Trinidad & Tobago, Turks and Caicos Islands, U.K. (England, Northern Ireland, Scotland, Wales),  U.S.A.
2. Transcripts:  All foreign transcripts (universities outside of the U.S.) must be evaluated by a NACES Evaluation Agency. An official course-by-course evaluation must be included
3. Passport: A copy of the student's passport must be provided.
While not required for an admission decision, students should review the financial support requirements below and begin to assemble the necessary information and resources to study at UNO while they await a decision.
---
IF CONDITIONALLY ADMITTED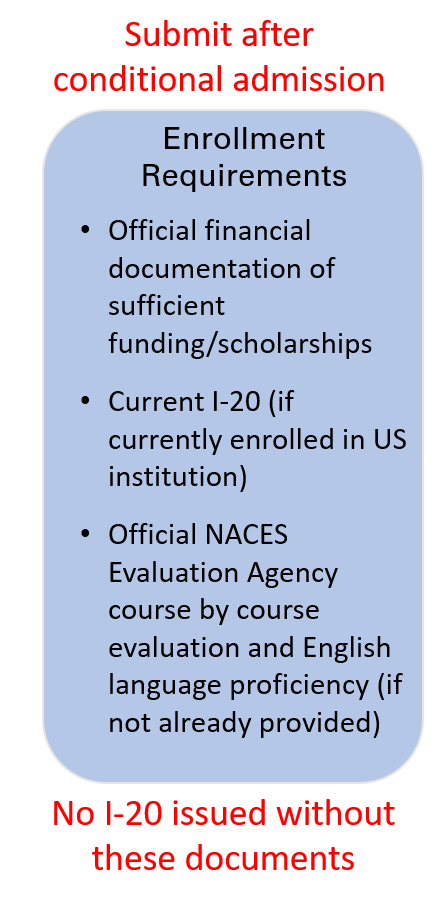 The following are required for full admission into the graduate program and prior to issuing of I-20.
1. Official NACES approved evaluation and English Language Proficiency if not provided with application.
2. Financial Documents:  To review the financial support form, >click here.  Cost of attendance.
3. Current I-20 if the student is currently enrolled at a U.S. institution.
2023-2024 International Application deadlines

| Term | Application student submission deadline (If program deadlines earlier, earliest deadline applies. | Term Start Date |
| --- | --- | --- |
| Spring 2024 | October 10, 2023 | January 8, 2024 |
| Summer 2024 | March 5, 2024 | June 3, 2024 |
| Fall 2024 | May 21, 2024 | August 19, 2024 |