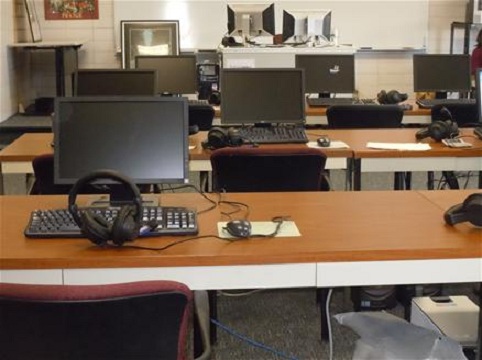 The Foreign Language Lab is located in the Liberal Arts building, room 350, and is managed by the Foreign Language Department. It is a 40 position facility with Sony ER-9030 Educational Recorders at each position. It is used primarily as a library system.
Location
Foreign Language Lab
350 Liberal Arts Building
University of New Orleans
2000 Lakeshore Drive
New Orleans, LA 70148
Students have the appropriate programs put on their own tapes and then use them in a variety of ways at an individual position, coming on their own schedule and proceeding at their own pace. It is also used on a scheduled system in which the teacher brings the class to the lab and monitors and contributes to the students' learning from the Sony 9000 master console. Numbers permitting, it is possible for these systems to be utilized simultaneously. These audio programs are required, or strongly recommended, for students in the first two to three semesters and are closely coordinated with the texts being used in each course.
Hours
Tuesday
10:00 - 12:00
Wednesday
12:00 - 3:00
(summer hours)
Lab materials are also used for certain courses above these levels.
Of interest to students at all levels is the computer room. The available software is varied in type and level. It is our intention to sample the various software programs on the market in the languages which we teach, and to expand this facility according to utilization, hopefully leading to a full, computer-equipped laboratory. This facility is presently small and is not available for uses beyond foreign language purposes.
Contact the Lab
Ms. Dulce Menes
Foreign Language Lab Director
Phone: 504-280-6933
Email: dmmenes@uno.edu