Ship Design Computer Laboratory
Naval Architecture and Marine Engineering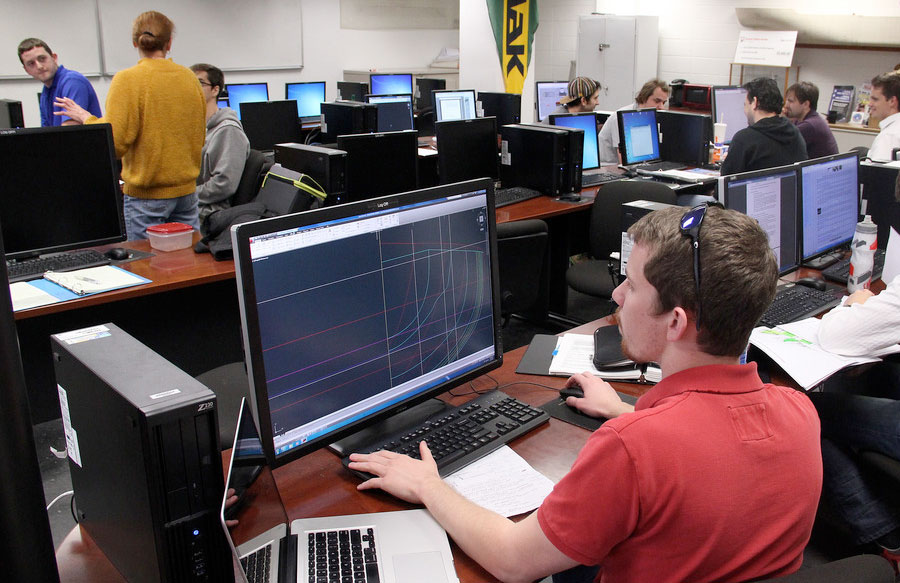 We operate a computer laboratory with state-of-the-art hardware and naval architecture specific software.
The lab is reserved for NAME students and accessible 24/7. In addition to standard office software, CAD and scientific tools, we operate a cross section of naval architecture and marine engineering specific software which represents a typical tool set used in naval architecture all around the world.
The lab is fully networked and provides access to other online resources. If you need more information about our computational facilities please contact Dr. Lothar Birk.
Some of the software we use:
---
Bentley Systems (formerly Formation Design Systems Pty Ltd, Fremantle, Australia) 3D NURBS modeling system with evaluation tools for hydrostatics, stability, resistance & propulsion, structural strength and seakeeping. Students can obtain a license for their personal computers.
---
McNeel North America, Seattle, WA Rhinoceros is a popular general 3D NURBS modeler with good support for naval architecture.
---
FRIENDSHIP-Systems, A GL-DNV Company, Potsdam, Germany A next generation parameter driven CAE-tool for ships.
---
Creative Systems Inc, Port Townsend, WA A program suite to assess intact and damage stability of ships.
---
HydroComp Inc., Durham, NH A toolset for the assessment of ship resistance and propulsion in early ship design.
---
Amarcon B.V., Dalfsen, The Netherlands Strip theory based program to assess seakeeping characteristics of ships.