Tracey A. Knaus, Ph.D.
Assistant Professor
M.S. Program Coordinator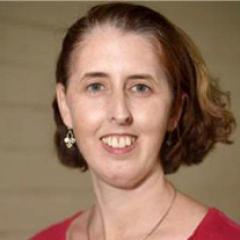 Education
B.S. in Neuroscience from Texas Christian University
Ph.D. in Neuroscience from Tulane University
Postdoctoral training in Cognitive Neuroscience at Boston University School of Medicine
About
Dr. Knaus plans to admit a new PhD student to start in Fall 2023
Research Interests
My main research interests are in neurodevelopmental disorders, the relationship between brain anatomy, function, and behavior, and language and communication functions. My current research uses neuroimaging (MRI) to examine brain anatomy, connections between brain regions, and brain functions in typically developing children and children with autism spectrum disorder (ASD). With these studies, my main focus has been on language abilities and development, in the hopes of better understanding the neural mechanisms of language and communication. A better understanding of these neural mechanisms will allow development of more targeted interventions for children with autism spectrum disorder with language deficits, which is another focus of my research.
In prior studies, we have demonstrated language related anatomical-behavioral associations in children with ASD. In our most recent studies, we have shown a relationship between cortical anatomy and behavioral changes over time and differences in neuroanatomy between children with ASD with severely impaired expressive language abilities and those without expressive language deficits. In the first study, decline in language over time was associated with smaller planum temporale volume, while relatively stable language was associated with larger right pars triangularis volume. Similarly, in the second study, we found smaller planum temporale volume, particularly in the right, in children with impaired expressive language relative to those with average or above expressive language. This study included individuals with ASD with very impaired language, nearly 3 standard deviations below the mean, a group which has not been studied. These studies suggest that specific differences in neuroanatomy may provide more conducive configurations or allow for better compensation in some individuals with ASD and provide important targets, particularly of right planum temporale and right pars triangularis, for interventions designed at improving language in ASD.