Roberto Refinetti, Ph.D.
Professor and Psychology Department Chair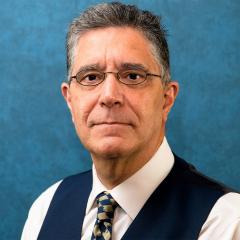 Education
B.A. in Philosophy, Pontifical Catholic University, Brazil, 1981
B.S. in Psychology, University of São Paulo, Brazil, 1981
M.A. in Experimental Psychology, University of São Paulo, Brazil, 1983
Ph.D. in Psychology, University of California, Santa Barbara, 1987
Postdoc in Chronobiology, University of Illinois, Urbana-Champaign, 1989
Postdoc in Biological Timing, University of Virginia, Charlottesville, 1992
About
Dr. Refinetti plans to admit a new PhD student to start in Fall 2023
Research Interests
Dr. Refinetti is a biological and comparative psychologist. Research in his Circadian Rhythm Laboratory concentrates on behavioral and physiological mechanisms (including neural mechanisms) responsible for biological rhythms, particularly daily or circadian rhythms. Often but not exclusively emphasis is placed on mechanisms of temperature sensation and body temperature regulation. Research in the laboratory and through global collaborations involves human subjects, farm animals, rodents, and other animals. Occasional field studies complement laboratory studies.
Dr. Refinetti is Editor-in-Chief of the journals Chronobiology International and Sexuality & Culture and author of the book Circadian Physiology (currently in its third edition). He has published more than 200 articles in professional journals, and his scientific reputation is at the top 1% of professors at research universities (h index = 35). He is a Fellow of the American Physiological Society and a member of the Society for Neuroscience, the Association for Psychological Science, the Society for Research on Biological Rhythms, and five other professional associations. He joined UNO in 2020 after many years as a faculty member at the College of William and Mary, the University of South Carolina, and Boise State University.