Pamela A. Kennett-Hensel, Ph. D.
Dean, College of Business Administration
Annette Weinberg Bernstein Chair in University Management
Freeport Mc-Mo-Ran Professor of Corporate Social Responsibility
Professor of Marketing
Contact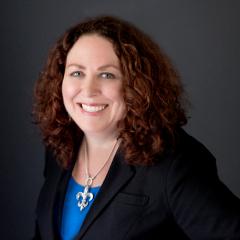 Education
PhD, Georgia State University
MBA, University of Maine
BBA, Loyola University
About
Professor Kennett-Hensel joined UNO in 2000. Previously, she was on the faculty at the University of South Alabama and served as an instructor at Georgia State University. She has taught in UNO's International Summer School program in Innsbruck, Austria and in UNO's Executive MBA programs in Kingston, Jamaica and New Orleans.
Courses Taught
Undergraduate Marketing Research
Marketing Management
Services Marketing
Strategic Marketing Management
Marketing Research at the graduate level
Research Interests
Professor Kennett-Hensel's research interests include sport and event marketing and services marketing. Recently she has been examining the long-term impact of Hurricane Katrina induced stress on consumer behavior. She also is examining the impact of CSR (corporate social responsibility) on consumer relations.
Dr. Kennett-Hensel's research has been published in journals such as Marketing Letters, Journal of Business Research, Journal of Services Marketing, Journal of Marketing Education, Journal of the Academy of Marketing Science, Journal of Business Ethics, Psychology & Marketing and the Journal of Adveristing. It has also been presented at numerous national and international marketing conferences including the annual meetings of the American Marketing Association, Society for Marketing Advances, Association for Consumer Research, Society for Consumer Psychology, European Marketing Academy, and Marketing Management Association.