Milton Pressley, D.B.A.
Contact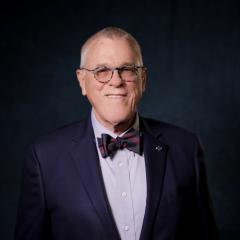 About
The first chairman of the marketing department, Dr. Pressley is now a Professor Emeritus, teaching online and consulting in marketing and management. Academically qualified, he holds a Doctorate in Marketing with a minor in Management and a M.B.A. with a concentration in Management. He has served three times as the Director of the UNO-Innsbruck Summer School program and as Coordinator for the International Business Course and Overseas Programs for UNO's EMBA Program. He has taught in Australia, Austria, Croatia, France, Hungary and the University of Cambridge in England.
Prior to assuming his position at the University of New Orleans, he directed the Ph.D. program in Marketing and Management at the University of Mississippi. His first academic administrative experience was at the University of North Carolina – Greensboro where he served as the director of the Continuing Education Program for the School of Business and Economics and Director of the Small Business Institute.
His publications include over a dozen books and monographs and over two dozen journal/blind-refereed articles in both Marketing and Management in a variety of periodicals including the Journal of Marketing Research, Journal of the Academy of Marketing Science, Journal of Business Research, Journal of Organizational Marketing, University of Michigan Business Review, Journal of Business Ethics, and the Journal of Advertising Research. He has also published numerous other works in non-refereed publications including the Wall Street Journal and presented over two-dozen works at academic meetings. In keeping with the increasing use of technology in the university classroom, he has authored approximately 50 multimedia works -- publishing more than 25 comprehensive electronic presentations to accompany textbooks for the top four publishers of business texts and over 150 online cases.
Professor Pressley is the past president or association chairman for a number of organizations including the American Marketing Association North Carolina Chapter and the Atlantic Marketing Association. He has served on the editorial review boards of 4 journals including: the Journal of Marketing Research, Journal of Business Research, Review of Business and Economic Research, and the Journal for Experiential Learning and Simulation. Dr. Pressley has also been a book reviewer for 3 journals (including the Journal of Marketing and the Journal of the Academy of Marketing Science) and 4 text publishers, and has served on the proceedings review boards of 4 professional associations.
An experienced Board of Directors Member, Dr. Pressley served for 12 years on the board for Consumers Union, Publishers of Consumer Reports magazine, website and other publications. He chaired the Consumers Union's investments committee for 6 years and served as a member of its nominating and audit committees. He has also held Board of Directors and/or management positions with ten other organizations including: Engineering Specialties, Inc., New Orleans Sports Foundation, Boys and Girls Clubs, Radio Hall of Fame, Sears, SMC Corporation, Society for Environmental Education, Technology Transfer Board, and WYES Television.
Dr. Pressley has consulted with the following major organizations: Shell Offshore, Inc., National Corporation for Public Broadcasting, N.A.P.A, (National Auto Parts Association), American Dental Association, N.A.D.W, Inc., New York Life Insurance Company, Wachovia Banking Corporation, Houghton-Mifflin Publishing, Inc., McGraw Hill – Irwin Publishing, Inc., and the State Farm Insurance Company. He has served as an expert witness for K-Mart, in plaintiffs vs. the Louisiana Automobile Dealers Association, and Domino's Pizza.
He has owned and operated his own businesses and has over twenty-five years of consulting experience with small and large, industrial and consumer, profit and non-profit organizations. Dr. Pressley's assignments have included business plan development, strategic planning, marketing plan development, marketing audits, international marketing research, sales training, advertising strategy, advertising testing, advertising research, advertising analysis, new product testing, new product development, new product introduction, organizational globalization and others.