Michelle Daussin, Ed.D.
Assistant Professor of Professional Practice
Contact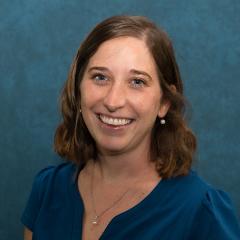 Education
Ed.D., Curriculum & Instruction, University of Louisiana at Monroe
M.Ed., Curriculum & Instruction, University of New Orleans
B.S., Elementary & Early Childhood Education, University of Louisiana at Lafayette
About
Dr. Michelle Daussin is a proud alumnus of three universities from across the great state of Louisiana with 13 years of early childhood and elementary teaching experience in St. Bernard Parish. She has mentored several preservice teachers throughout her career and served on the district curriculum writing team. Dr. Daussin has experience researching and developing the Louisiana Student Standards by serving on the Louisiana State Standards Review K-2 Content Subcommittee in 2016. Dr. Daussin was honored as a Louisiana State Teacher of the Year Semi-Finalist in 2016 and the St. Bernard Reading Association Teacher of the Year in 2019. She has been the president on the state board of directors for the Associated Professional Educators of Louisiana (A+PEL) and vice president of the St. Bernard chapter of the Louisiana Reading Association. She continues to serve as an active member of both of these associations. Dr. Daussin is most proud of her roles as mother to her 3 young children and wife to her amazing husband. She truly enjoys sharing current teaching strategies and connecting her university students with exciting field experiences throughout the semester. Teaching is a work of "heart" and Dr. Daussin is so proud to be a part of supporting these "heart" working future and current educators.
Research Interests
Early Childhood and Elementary Education
Early Literacy Development
Teacher Development
Increasing Teacher Retention Rates