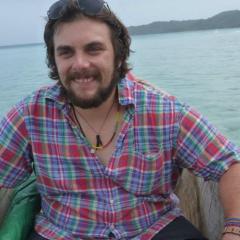 Education
BA Anthropology 2005 Florida State University
MA Anthropology 2011 Tulane University
Ph.D. Anthropology 2020 Tulane University
About
Research and Teaching Interests:
Cultural anthropology; linguistic anthropology; national identity; Multi-Modal Critical Discourse Analysis; African Diaspora; race and ethnicity; history of nationalism and nations; Garifuna language, history and culture; Central America; the Caribbean; migration; ethnomusicology; cognitive anthropology; Afro-Caribbean religions; spirit possession; witchcraft; Sub-Saharan African history, language, and culture; ancient migrations; historical linguistics; New Orleans culture and history; syncretism; pidgins and creoles; dialectology; history of writing; Roman history; Mesopotamian history; Greek history.
I also have this little blurb if needed or appropriate:
Though I am a linguistic anthropologist, my scholarly interest is focused on subjects often analyzed by cultural anthropologists. My work has been with the Afro-Amerindian Garifuna people of Belize, Guatemala, Honduras, and New Orleans. I study the multi-modal discursive construction of Garifuna national identity through speech, music, and art.
My teaching springs from my research and leads students to appreciate the ways global flows of capital, bodies, and ideas impact local cultures. I teach that culture and identity are historically contingent and determined, but ultimately flexible and constructed. My goal is to produce students who are in awe at the scope of humans' ability to fabricate categories and concepts, and subsequently take those constructs for granted as "natural".
I have taught at several universities and I am glad to call the University of New Orleans home. I teach courses on cultural anthropology, religion, magic, spirit possession, and witchcraft as well as the people and cultures of the Caribbean and Sub-Saharan Africa.