Kyeong Sam Min, Ph. D.
Interim Department Chair
Sidney Baron Endowed Professorship in Marketing
Professor of Marketing
Contact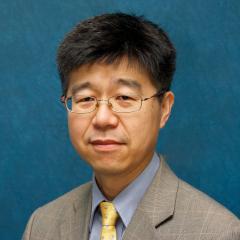 Education
Ph.D., The Ohio State University
About
Professor Min joined UNO in 2008. Previously, he was on the faculty at the University of South Dakota and served as an instructor at the Ohio State University. He taught at UNO's International Summer School in Innsbruck, Austria (2013), and the Executive MBA program in Kingston, Jamaica (2012).
Courses Taught
Marketing Management
Consumer Behavior
Marketing Research at the undergraduate level
Advanced Analysis of Consumer Behavior at the MBA level
Strategic Marketing Management at the MBA and Executive MBA levels
Research Interests
Professor Min's research interests lie in the field of consumer judgment and decision making. His research focuses on understanding the interplay between consumer psychology and marketing strategy. Recently, he has been examining the role of timing of information in the context of product or service failures.
Professor Min's research has been accepted for publication at several peer-reviewed marketing and psychology journals, including the Journal of Consumer Research, Marketing Letters, Psychology & Marketing, Journal of Business Research, Journal of Applied Social Psychology, and Health Marketing Quarterly. He is also a contributor to books, including the Handbook of Consumer Psychology and Digital Advertising. His research has been presented at national conferences such as the annual meetings of the Association for Consumer Research, American Marketing Association, Society for Consumer Psychology, Society for Personality and Social Psychology, and Society for Judgment and Decision Making.
Professor Min serves on the Editorial Review Board of the Journal of Business Research (Buyer behavior section), Marketing Education Review, and Journal of Marketing Thought. He received Drew Martin Award for Best Reviewers from the Journal of Business Research. He was a recipient of the Executive MBA Professor of the Year and Outstanding Undergraduate Marketing Faculty Award.
Areas of Expertise:
Judgment and Decision Making, Service Failure and Recovery, Communication Strategy, Cross-Cultural Psychology