Tyler Seih
Adjunct Instructor, viola
Resident Artist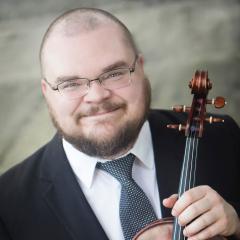 Education
BM Cleveland Institute of Music
About
A native Minnesotan, Tyler Sieh is a member of the Louisiana Philharmonic Orchestra in New Orleans. He also serves on faculty at the University of New Orleans as violist with the Lott String Quartet, quartet-in-residence at the University of New Orleans. Previously, Tyler was as a member of the Omaha and Lincoln Symphonies as well as principal viola of the Sioux City Symphony Orchestra and associate principal viola of the South Dakota Symphony Orchestra.
Tyler completed multiple degree programs at the Cleveland Institute of Music before serving in the United States Air Force as a member of the Air Force Strings based in Washington, D.C. He has served on faculty at Augustana University and Minnesota State University, Mankato as well as the Masterworks Festival, New England Music Camp, and International Music Camp.
He gave his solo recital debut at the Kennedy Center for the Performing Arts in 2009 and in 2018 made his Carnegie Hall debut as part of the Louisiana Philharmonic Orchestra's celebration of composer Philip Glass' 80th birthday.
He has enjoyed the opportunity to perform with orchestras across the country including Minnesota, Indianapolis, Kansas City, Charlotte, Toledo, Akron, Delaware, Annapolis, Mobile, the Erie Philharmonic the Minnesota Opera and the National Gallery Orchestra.