Jane S. Cromartie, Ph. D.
Contact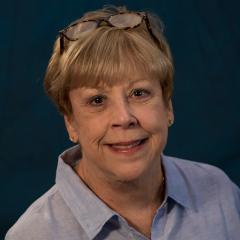 Education
Ph.D., University of Florida
About
Professor Cromartie has taught at the University of Florida, Virginia Commonwealth University, and in Innsbruck, Austria, as well as at UNO. In addition to her university experience, she served four years as Senior Staff Consultant in Economics, specializing in legislation affecting commercial regulation, for the Commonwealth of Virginia's joint executive and legislative Commission on State Governmental Management. She has also provided consulting services to various corporations and to federal agencies including the U.S. Department of Energy, and the U.S. Department of Transportation.
Courses Taught
Strategic Marketing Management (MBA)
Marketing Foundations for Managers (MBA)
Seminar in Negotiation (MBA)
Marketing Strategy (Undergraduate Capstone)
Legal Aspects of Marketing
Principles of Marketing.
Honors and Awards
Areas of academic research have included marketing strategy, strategic agility, competitive analysis, and legal aspects of marketing. More recently she has focused on the relevance of questioning and marketing thinking in strategic contexts. Her work has been published in Marketing Intelligence and Planning; Consumption, Markets & Culture; the International Trade Journal; the Journal of Global Competitiveness; the International Journal of Management; the Presidential Studies Quarterly; the Atlantic Economic Journal; and the Journal of Small Business Management.
Cromartie is a qualified expert witness in federal antitrust and commercial litigation, and has testified on behalf of the U.S. Department of Justice, and various private commercial antitrust litigants. She served as expert on Marketing Practices for the Federal Bankruptcy Court in the matter of the Louisiana World Exposition. Cromartie also has extensive hands-on experience in use of focus group methodologies, and has designed projects for organizations involved in consumer products marketing, health care, finance, transportation, judicial administration, risk management, and education. Her involvement in the Consortium for Environmental Risk Evaluation (CERE) project provides one notable example of her application of focus groups to public policy research. Directed by CERE's co-principal investigators at Tulane University and Xavier University of New Orleans, teams of social science researchers representing more than 15 colleges and universities around the country worked to systematically inventory and evaluate the risks to public health and safety posed by the conditions at six federal nuclear weapons facilities across the US. (Hanford, Washington; INEL, Idaho Rocky Flats, Colorado; Fernald, Ohio; Oak Ridge, Tennessee; Savannah River, South Carolina). As a member of the Xavier/CERE team, Cromartie designed and administered the 44 focus groups used to identify and classify concerns, levels of concern, and perceptions of risk held by those citizens living and working close to the sites. All research designs and protocols were vetted by the CERE National Advisory Committee, composed of experts in social science research from participating universities.