Inge Fink
Retained Instructor, Director of the Writing Center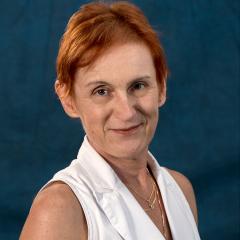 Education
MA, UNO, 1988; MA, University of Innsbruck, 1985

About
Inge Fink has a master's degree in German and American Studies from the Univeristy of Innsbruck, Austria. She came to New Orleans in 1985, where she earned another master's in English. She has been teaching as an instructor in the UNO English department since 1988.
Ms. Fink loves the theater and all things thespian, so it is not surprising that one of her favorite classes to teach is Introduction to Drama (don't miss her coming to class in costume if Halloween falls on a school day!). Maybe because of her Teutonic upbringing, another of her favorite classes is Technical Writing, a class not necessarily known for its flamboyance but revered for its practicality and usefulness in the proverbial "real world." She expects much of her students, but she strives to make their learning experience as diverse and interesting as possible.
In the summer of 2005, Ms.Fink accepted the position of Director of the Writing Center as part of her academic duties, and she had the strangest rookie year anybody could possibly imagine. However, not even Hurricane Katrina could diminish her determination to make the UNO Writing Center a friendly, inviting place, where writers of all academic levels can improve their writing and editing skills as they work with carefully trained tutors, all of whom are graduate assistants in English. If maxed-out appointment books are an indication, the Writing Center enjoys great popularity among students and their teachers, who encourage them to go there.
Together with Gabrielle Gautreaux, Ms. Fink has edited three editions of Reading Matters, the 1158 textbook, and Reading Life, which was used at UNO for a number of years. Lately, she has been doing a lot of editing work for books and volumes of scholarly essays issued by UNO Press.