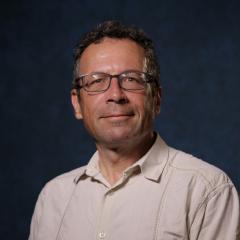 Education
Joint PhD in Anthropology and French Studies from New York University
About
Dr. Beriss studies and teaches about ethnicity and race, immigration, foodways, and urban and applied anthropology. His research focuses on New Orleans and the Gulf South, as well as the French Caribbean and France.
Dr. Beriss is co-editor of The Restaurants Book: Ethnographies of where we eat (Berg, 2007) and author of Black Skins, French Voices: Caribbean ethnicity and activism in urban France (2004, Westview). He is editor of and a frequent contributor to FoodAnthropology (https://foodanthro.com/), the blog of the Society for the Anthropology of Food and Nutrition.
Recent publications include:
2019 "Food: Location, Location, Location." Annual Review of Anthropology. 48:61-75.
2018 "Haute, Fast, and Historic: Restaurants and the Rise of Popular Culture," in Peter Naccarato & Kathleen LeBesco, eds, The Handbook of Food and Popular Culture. London: Bloomsbury, pp. 124-137.
2015 "Claiming Culture, Defending Culture: Perspectives on culture in France and the United States," Raulin, Anne and Susan Carol Rogers, eds. Transatlantic Parallaxes: Toward Reciprocal Anthropology. New York: Berghahn. pp. 84-108.
2015 "Teaching Restaurants," co-authored with David Sutton, in Swift, Candice Lowe and Richard Wilk, eds. Teaching Food and Culture. Walnut Creek, CA: Left Coast Press. pp. 147-167.
2012 "Red Beans and Rebuilding: An Iconic Dish, Memory and Culture in New Orleans," in Wilk, Richard and Livia Barbosa, eds. Rice and Beans: A Unique Dish in a Hundred Places. Oxford: Berg. pp. 241-263.
Notable recent blog entries include:
Dr. Beriss teaches courses on Food and Culture, Peoples and Cultures of Europe, Ethnicity and Race in Contemporary Societies, Urban Anthropology, Food Justice, Consumption and Culture, Anthropology and Public Policy, Globalization, and Applied Anthropology.
Research Interests
Sociocultural Anthropology, ethnicity, multiculturalism, urban and applied anthropology, foodways, Western Europe, Caribbean, New Orleans.