D. Ryan Gray, Ph.D.
Richard Wallin Boebel Professor of Anthropology and Associate DIrector of Midlo Center for New Orleans Studies
Contact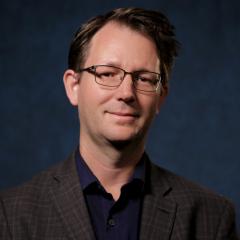 About
D. Ryan Gray received his BA in Archaeology from Columbia University, New York, New York, in 1996, and his MA and PhD from the University of Chicago, Chicago, Illinois. He has worked extensively in private sector cultural resource management, and he also currently serves on Louisiana's Antiquities Commission and on the Louisiana Slavery and Ancestral Burial Grounds Commission.
Since arriving at UNO, Gray has worked to develop a number of long-term research projects based at the university and abroad. He has led summer field schools with students at a number of different sites in the city, including at the Temple of the Innocent Blood, the site of a Spiritual Church operated by Mother Catherine Seal in the 1920s, and at locations associated with Storyville, the city's quasi-legal red light district, often considered the birthplace of jazz. He has expanded the capabilities of the UNO Archaeology Lab, and he is committed to creating new opportunities for public engagement with the archaeology and material culture of the City of New Orleans, including the development of a web-based archaeology tour of the city entitled "The City Beneath the City", available via the New Orleans Historical app. Information about some of his other projects can be found at Art of Digging.
He has also developed an ongoing partnership with the U.S. Defense POW/MIA Accounting Agency, collaborating with the University of Innsbruck in Austria to investigate WWII aircraft crash sites in Central Europe to help make the fullest possible accounting of missing American military personnel. The first of these efforts in 2017 resulted in the identification and recovery of the remains of Captain Lawrence Dickson, a Tuskegee Airman who crashed in 1944.
Gray's book Uprooted: Race, Public Housing, and the Archaeology of Four Lost New Orleans Neighborhoods, was released in 2020 (University of Alabama Press), and he is already at work on a second book (with Shannon Dawdy) that will be the first overview of the archaeology of New Orleans for general audiences.