Coastal Education Program and Coastal Education Research Facility (CERF)
Coastal Education Program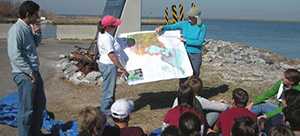 For two decades UNO PIES Coastal Education Program has introduced thousands of students to the coastal environment through field experiences. Since 2010 the CEP has offered field experiences at UNO's Coastal Education and Research Facility.
UNO Pontchartrain Institute for Environmental Science Coastal Education Program is based at the Coastal Education and Research Facility (CERF) and provides the following outreach activities
Coastal Wetlands field-based learning experiences for grades 4-12 at the Shea Penland Coastal Education and Research Facility (CERF)
Field experience for some college classes
Environmental science research opportunities for high school students
Professional development for science teachers interested in using the local environment to develop science lessons based on current coastal research
Workshops for a variety of audiences interested in coastal issues
For more information about the programs available contact Dinah Maygarden at dmaygard@uno.edu
Mission Statement
UNO's Coastal Education Program provided opportunities for hands-on science-based learning activities in the outdoors to teach about Louisiana's coastal wetlands, because all people learn most effectively when they are actively engaged.
Our goals include increasing awareness and understanding of the issues surrounding coastal land loss and restoration by interpreting the science and providing opportunities to interact with the environment. Our audiences are the young people of our area, their teachers and the general public.
Through grant-funded projects, we find innovative ways to address the need for increasing achievement in science education through learning about and in the environment.
Coastal Education Research Facility (CERF)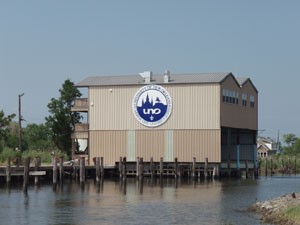 The facility is on Chef Menteur Highway, at Chef Menteur Pass, in the brackish marshes of eastern Orleans Parish – just 30 minutes' drive from downtown New Orleans. It is an ideal place for learning about our coastal wetlands. CERF is adjacent Bayou Sauvage National Wildlife Refuge and some activities take place in the refuge.
The building is approximately 4000 square feet, with covered dock space. We have classroom and lab space, kitchen, bathrooms and dorm space inside and a large outdoor area with water access. We are surrounded by coastal marshes and water. Students can explore the marshes via guided canoe trips and collect samples of many kinds to investigate the wetland systems.