Online BIS Requirements
Sample Courses
Behavioral Studies
PSYC 2110 - Child Psychology - Study of the physical, social, and    psychological development of the child

PSYC 2120 - Adolescent Psychology - Study of the physical, social, and psychological development of the adult.
PSYC 4510 - Personality - Determinants and dynamics of personality.
Business & Urban Society
MURP 4005 - Introduction to Neighborhood Planning - This class introduces students to the underlying processes of neighborhood-based planning and explores the role of the neighborhoods in the metropolitan environment.  Through class lectures, discussion of assigned readings, and presentations of planning initiatives undertaken in a variety of New Orleans' neighborhoods, students will explore the components of neighborhood development, change, and planning.

MANG 4400 - Survey of Management Topics - A survey of basic management topics in organization behavior, management information systems, and operations management.  Provides an introduction to fundamental management concepts for pre-MBA students who have not had prior coursework in these areas. 

ECON 4400 - Economic Foundations for Managers - Economic foundation needed for managerial decision-making.  Prepares students for graduate study in Business Administration.  It deals with problems of scarcity and how choices made by individuals, businesses, and governments serve to address allocation questions that arise form scarcity.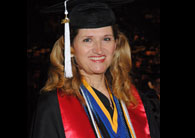 Edie Talley - Class of 2014
"Young students often focus on existential questions of "Who and what do I want to be?"  As an adult student and lifelong learner, I had already answered those questions.  My question was: "What do I want to DO?"  The answer was EVERYTHING!  I thrive on new experiences and my IDS concentration in Leadership Styles & Studies gave me the agility, adaptability, and confidence to blaze fun and challenging career paths."