The BS in Healthcare Management has been carefully designed to meet and exceed the national accreditation standards of the Association to Advance Collegiate Schools of Business (AACSB) and the national certification standards of the Association of University Programs in Healthcare Administration (AUPHA).
Student Learning Outcomes:
The new BS in healthcare management at the University of New Orleans has been designed around three basic goals:
Provide a diverse and academically sound health management program which equips students with knowledge, research skills, and an awareness of the current practices in the field of health care administration.
Build the underlying professional competencies needed to manage and lead healthcare into the future.
Create a student body and a community of alumni that are actively engaged in the process of improving the health of the community, state, nation, and world.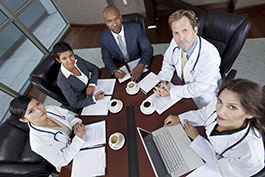 Degree Requirements
Degree requirements give an overview of courses required to complete the degree program. Not all courses are offered every semester. To see a list of current courses, please see our online catalog.
See also: Four Year Plan of Study
Example Courses
Please check WebStar for the up-to-date list of undergraduate courses. Please note that not all courses are offered every semester.