The BS in Healthcare Management has been carefully designed to meet and exceed the national accreditation standards of the Association to Advance Collegiate Schools of Business (AACSB) and the national certification standards of the Association of University Programs in Healthcare Administration (AUPHA).
Student Learning Outcomes
Student Learning Outcomes specify what students will know, be able to do, or be able to demonstrate when they have completed a program of study.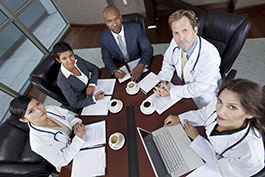 Degree Requirements
Degree requirements give an overview of courses required to complete the degree program. Not all courses are offered every semester. To see a list of current courses, please see our online catalog.
See also: Four Year Plan of Study
Example Courses
Please check WebStar for the up-to-date list of undergraduate courses. Please note that not all courses are offered every semester.