Edward R. Johnson, Ph.D.
Contact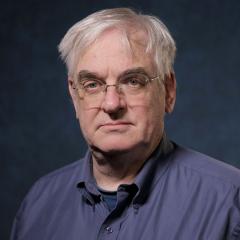 Education
Edward Johnson has been, since 2011, Professor Emeritus of Philosophy. He earned his Ph.D. at Princeton University with one of the earliest dissertations on animal rights. Over the years, he received six awards for teaching (1984, 1990, 1999, 2000, 2005, 2010), and served in a number of administrative roles at the University of New Orleans, including Chair of the Department of Philosophy (1982-2011), Vice Chancellor Associate for Academic Affairs (1998-2000), Director of the Office of Freshman Affairs (2000-2003), Academic Director of the General Studies Program (2003-2005), and Director of the University Honors Program (2007-2011).
About
He has published more than a hundred essays in academic books and journals, dealing with a broad range of issues: from ancient western and eastern thought (Greece, China, India), to applied ethics (including environmental ethics, bio-ethics, criminal justice ethics, business ethics), to Philosophy of education, and Philosophy of technology. In 2009, he was Inaugural Director of UNO's summer program, UNO in Japan: Study at Doshisha University.
The Edward R. Johnson Scholarship was named to honor his service and contributions to this department.
Courses Taught
PHIL 3302: The Philosophy of Aristotle
PHIL 3334: German Idealism & the 19th Century
PHIL 3401: Theories of Knowledge
PHIL 3422: Analytic Philosophy
PHIL 3431: Philosophy of the Social Sciences
PHIL 3480: Philosophy of Religion
PHIL 3500: The Philosophy of Wittgenstein
PHIL 3511: Existentialism
PHIL 4205: Environmental Ethics
PHIL 4250: Philosophy of Art
Other Courses Taught:
A&S 1119: Ancient Greece
A&S 2410: Renaissance Reformation Enlightenment
A&S 2899: Twentieth Century Issues
A&S 2999: Forms of Inquiry
A&S 3099: Honors Colloquium
A&S 3110: Nineteenth Century
ENGL 1159: Honors English Composition
ENGL 2279: Ancient Greek Literature