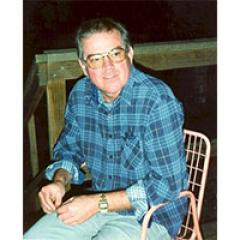 About
Donald Hanks was, from 2006 until his passing 1 March 2014, Professor Emeritus of Philosophy. He earned his Ph.D. from Tulane University.
His main areas of research were Philosophy of Religion, Philosophical Psychology, and Logic.
He joined the faculty at the University of New Orleans in 1967, a year before the Department of Philosophy was formed. Prior to his career at UNO he taught at the University of Denver, and later at Western Nevada College in Carson City. In 1981, Hanks was selected by the LSU System Distinguished Faculty Fellowship Committee to receive the Amoco Foundation Award as the outstanding undergraduate teacher in the LSU system. Though suspicious it might be a case of mistaken identity, he accepted the honor nonetheless. It was, after all, accompanied by a handsome cash reward. In 1991, he designed a model for combating violent crime. The model was adopted by the Jefferson Parish Sheriff's Office and given the name "Code Six." It became an effective tool for fighting serious crime in Jefferson Parish, as well as in other jurisdictions around the land.
In 1988, the late Carl E. Muckley, a distinguished alumnus and former student, established the Donald K. Hanks Endowed Scholarship Fund in Philosophy at UNO. This fund was subsequently bolstered by a bequest from the Muckley estate in the amount of $2.1 million dollars. He was delighted that interest on the fund that bears his name generates the money that makes all of the department's Scholarships & Awards possible, including the Donald. K. Hanks Scholarship.
Courses Taught
PHIL 1000: Introduction to Philosophy
PHIL 1050: Reasoning
PHIL 1100: Introduction to Logic
PHIL 2201: Ethics
PHIL 2411: Philosophy of Language
PHIL 2450: Philosophy of Mind
PHIL 2701: Religions of the East
PHIL 2702: Religions of the West
PHIL 3001: Senior Honors Thesis
PHIL 3030: Individual Senior Seminar
PHIL 3101: Advanced Logic
PHIL 3250: Philosophy of the Arts
PHIL 3332: British Empiricism & the 18th Century
PHIL 3400: Metaphysics
PHIL 3480: Philosophy of Religion
PHIL 3450: Philosophical Psychology