Sudha Krishnaswami, Ph. D.
Contact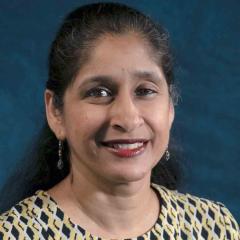 About
Sudha Krishnaswami is a Professor of Finance in the College of Business Administration at the University of New Orleans, New Orleans. She received her Ph.D. in Finance from Texas A & M University in College Station, Texas. She also holds a Master's degree in Mathematics from Temple University in Philadelphia, and a Master's degree in Applied Mathematics from P.S.G. College of Technology in Coimbatore, India.
Sudha's research interests are in the areas of asset restructuring, corporate governance and control, financing choices of corporations, managerial incentives, and market imperfections. Recently, she has also worked on the benefits and strategic impact of innovations and corporate capital investment decisions. Her research articles have been published in some of the premier journals in finance including the Journal of Financial Economics, Journal of Banking & Finance, the Journal of Risk & Insurance, and the Financial Review. Her research has been cited in the Investors Business Daily. She is the recipient of the Early Career Research and Achievement Award at the University of New Orleans, for her research visibility, and contributions to research and teaching excellence.
Sudha teaches courses in corporate finance, valuation, and corporate transactions in the undergraduate, MBA, Executive MBA, and Ph.D. programs at the University of New Orleans. She has won numerous awards for teaching excellence. She has also taught courses in investments and financial markets at the Lowry Mays College of Business at Texas A & M University, where she won the McDonald's Award for Teaching Excellence even as a graduate student.