Steve Masakowski
Professor
Coca-Cola Endowed Chair of Jazz Studies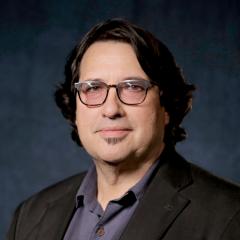 Education
Private study with Dr. Bert Braud in New Orleans. Studies included arranging, composition and orchestration, 1977 – 1979.
Berklee College of Music, Boston, Mass. Studies included jazz arranging, composition and improvisation; professional diploma, 1974 – 1976.
Private study with Jazz Guitarist Hank Mackie in New Orleans, LA. 1971 – 1974.
About
Steve Masakowski teaches Advanced Jazz Harmony and Theory, Jazz History and directs the UNO Jazz Guitar Ensemble at the University of New Orleans. He studied jazz arranging and composition at Berklee College of Music in Boston and studied composition and orchestration with Dr. Bert Braud in New Orleans.
As a recording artist, he has released eleven compact disks under his own name to date, including Tales of the Quarter, N.O. Escape, Things I Like, Wetland, Moon and Sand, For Joe, Live at Snug Harbor, Friends, Mars, and, Direct AXEcess and What it Was released on the prestigious Blue Note label. As a member of the world-renowned group Astral Project, he has recorded and released five CD's on various recording labels. As a jazz soloist, he has been invited to record on over forty recordings.
Reviews of his artistic endeavors have been featured in major publications such as Down Beat, York Times, Washington Post, Chicago Tribune, Jazz Times, and many others.
Honors and awards received include a Lifetime Achievement Award in Education from Offbeat Magazine, Lifetime Achievement Award from the International Guitar Festival, grants from the National Endowment for the Arts and the Louisiana Division for the Arts. He has twice been voted "Best Guitarist", and won "Best Contemporary Jazz Group" three times by Gambit and Offbeat magazines in their annual reader's polls. He is been recognized by Down Beat magazine as Talent Deserving Wider Recognition.
Some highlights of his performing career include performances with Grammy Award winning artists Bobby McFerrin, Nicholas Payton, Dianne Reeves, as well as local artists including Ellis Marsalis, Alvin "Red" Tyler, and Earl Turbinton. He has also performed in most of the major jazz festivals around the world including Mount Fuji, North Sea, and Newport.
Steve has also conducted and participated in numerous jazz clinics and workshops at many major universities including the University of Chicago, Indiana, North Texas, and Southern Mississippi. He contributes articles to Guitar Player magazine and has published a book on jazz ear training for Mel Bay Publications.
Steve Masakowski currently holds the position of Coca-Cola Endowed Chair of Jazz Studies at the University of New Orleans.
Teaching Philosophy
My teaching is a process of internalizing and conveying thoughts and ideas gleaned from the many great musicians that I have come into contact with over the years of my professional career. I treat each student as an individual with the idea of finding his own unique musical voice by exploring music from a historical prospective, but with an eye towards innovation and evolution..
Research Interests
Transcribing and publishing contemporary jazz compositions, writing arrangements for small and large ensemble, composing songs for recording and performance, recording and producing jazz projects, designing and producing new 7 string guitar instruments, electronic instruments, and pick designs.
Honors and Awards
Lifetime Achievement Award in Music Education, Best of the Beat Awards 2019
Nominated for BEST GUITARIST for the Best of the Beat Awards, 2019
Lifetime Achievement Award from the International Guitar Festival, 2018
Received the Germaine Bazzle Award for Music Education and Performance, 2014
Nominated for BEST GUITARIST for the Best of the Beat Awards, 2011
Nominated for BIG EASY AWARD with ASTRAL PROJECT for Best Contemporary Jazz Group 2008
Nominated for BIG EASY AWARD with ASTRAL PROJECT for Best Contemporary Jazz Group 2007
Nominated for BIG EASY AWARD with ASTRAL PROJECT for Best Contemporary Jazz Group 2005
Received Global Excellence Award from the Summers Multi- Cultural Institute, 2005
Nominated for BEST GUITARIST for the Best of the Beat Awards, 2004
Nominated for BEST CONTEMPOARY JAZZ GROUP with ASTRAL PROJECT for the Best of the Beat Awards, 2004
Received the "Keeping the Music Alive Award" Danny Barker Estate, 2003
Voted best guitarist in the 2002
OffBeat Magazine "Best of The Beat" Award Voted Best Contemporary Jazz Group ASTRAL PROJECT in the 2002
"Best of the Beat" Awards, Offbeat Magazine Voted Best Contemporary Jazz Album " Big Shot" ASTRAL PROJECT in the 2002
"Best of the Beat" Awards, Offbeat Magazine Won BIG EASY AWARD with ASTRAL PROJECT for best contemporary Jazz Group 2000
Voted Best Contemporary Jazz Album " VooDooBop" ASTRAL PROJECT in the 2000
"Best of the Beat" Awards, Offbeat Magazine Voted Best Contemporary Jazz Group ASTRAL PROJECT in the 2000
"Best of the Beat" Awards, Offbeat Magazine Voted Talent Deserving Wider Recognition in Down Beat Critic's Poll, 1998
Voted Talent Deserving Wider Recognition (Astral Project) in Down Beat Critic's Poll, 1998
Voted best guitarist in the 1999
OffBeat Magazine "Best of The Beat" Award Voted best guitarist in the 1998
OffBeat Magazine "Best of The Beat" Award Voted Talent Deserving Wider Recognition in Down Beat Critic's Poll, 1997
Voted Best Contemporary Jazz Album " Elevado" ASTRAL PROJECT in the 1996
Received the "Best of the Beat" Awards, Offbeat Magazine Voted Best Contemporary Jazz Group ASTRAL PROJECT in the 1998
"Best of the Beat" Awards, Offbeat Magazine Voted best guitarist in the 1996
Offbeat Magazine "Best of the Beat" Awards Voted Best Contemporary Jazz Group ASTRAL PROJECT in the 1996
"Best of the Beat" Awards, Offbeat Magazine Voted best guitarist in the 1995
OffBeat Magazine "Best of The Beat" Award Voted best guitarist in "People's Choice Awards" in 1994
Voted Best Contemporary Jazz Group ASTRAL PROJECT in "People's Choice Awards" in 1994
Won BIG EASY AWARD with ASTRAL PROJECT for best contemporary Jazz Group 1993 and 1994
BIG EASY AWARD nomination for best contemporary jazz musician, 1992
Won 1st place in Hennessy Cognac's BEST OF NEW ORLEANS JAZZ SEARCH, 1992
Voted "One of the 10 best guitarists" in Wavelength Magazine, 1991
Won 1st place in "NEW WORKS" composition competition, Contemporary Arts Center, 1982