Shaikh M. Arifuzzaman, Ph.D.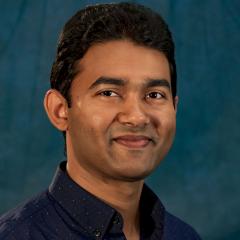 Education
Ph.D. in Computer Science, Virginia Tech, Dept. of Computer Science
B.Sc. in Computer Science and Engineering, Bangladesh University of Engineering and Tech. (BUET)
About
Shaikh M. Arifuzzaman is an Assistant Professor of Computer Science at the University of New Orleans (UNO), where he joined in Fall 2016. Earlier, he obtained his Ph.D. in Computer Science from Virginia Tech in August 2016. His Ph.D. was supervised by Drs. Madhav Marathe and Maleq Khan. At Virginia Tech, he worked in Network Dynamics and Simulation Science Lab (NDSSL), where he did interdisciplinary research on Big Data Analytics, Parallel Algorithms, Network Science, and High-Performance Computing. He also worked as a student researcher at Sandia National Laboratories, Livermore, CA. Prior to that, Dr. Arifuzzaman completed his B.Sc. in Computer Science and Engineering from Bangladesh University of Engineering and Technology (BUET), Dhaka, Bangladesh.

Dr. Arifuzzaman's research revolves around large-scale data-intensive computing for interdisciplinary problems emerging from network science, biological science, and other data-rich scientific disciplines. He is particularly interested in mining and analyzing large network data (e.g., social/biological/information networks) by designing novel algorithmic and analytical techniques, often for HPC systems. In recent years, he has been working on designing efficient parallel algorithms for counting triangles in massive graphs, characterizing social networks based on local neighborhood, and designing algorithms for scalable community detection. At UNO, Dr. Arifuzzaman is leading a research group on big data and scalable computing.
Research Interests
My research focuses on the intersection of data mining (data analytics), high performance computing (HPC), and network science. I am particularly interested in mining and analysis of big social and information networks by designing parallel algorithms and HPC techniques.

Network (graph) is a powerful abstraction for representing interactions among entities in a system. The entities and their interactions are represented as nodes (vertices) and links (edges) of a network, respectively. Examples include various social networks, biological networks, the web graph, and collaboration networks of authors. Mining and analyzing networks and reasoning about them through modeling facilitate to understand and improve corresponding systems. Due to the advancement of computing and data technology, we are deluged with massive data from diverge areas such as business and finance, social media, biology, and other data driven disciplines. In the era of big data, the emerging network data is also very large. Social networks such as Facebook and Twitter have millions to billions of users. The World Wide Web has over a trillion web pages. Such massive networks motivates for efficient and scalable algorithms for mining and analysis. My research strives to design such algorithms with applications to social, biological, and other technical systems.