Sathiadev Mahesh, Ph. D.
Contact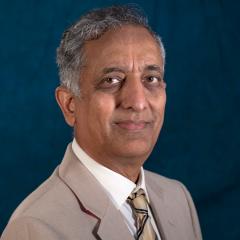 Education
Ph.D., Purdue University
M.B.A., Oklahoma State University
Engineering, I.I.T. Madras

About
Dr. Sathiadev Mahesh, Professor of Management has been on faculty of the University of New Orleans since 1984. Dr. Mahesh received his Ph.D. from Purdue University in 1984. He has an M.B.A. from Oklahoma State University and degrees in Engineering from the I.I.T. Madras and the University of Madras, India. His research has been published in many journals including Decision Sciences, Omega, the Journal of Organizational Change Management, and the Journal of Health & Human Services Administration.
His primary interest lies in the area of systems development. He has worked on many systems development projects and has experience with a wide range of business applications. In addition, Dr. Mahesh has worked in process improvement, including process quality improvement. He is a past vice president of education for the local APICS chapter and has taught many certification modules. Dr. Mahesh teaches courses in MIS and operations management. Dr. Mahesh has worked on the IT Initiative grant, GCRMTC, and SPAWAR funded research projects and received grants from other agencies including the Board of Regents.