R.Wayne Wagner, Ph.D.
Contact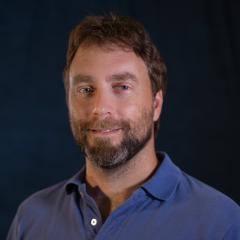 Education
Ph.D., Civil Engineering, University of California, Berkeley, USA (2012)
About
Dr. Wayne Wagner is a postdoctoral fellow at the University of New Orleans. Dr. Wagner's scientific interests center on physical processes in natural water and how they affect the biological and human systems on which they rely. This interest led him to graduate school at Berkeley, where he studied environmental fluid mechanics under Mark Stacey. While there, he studied climate change effects on California's complex Sacramento-San Joaquin Delta. After graduating from Berkeley, he went on to a post-doc under David Mohrig at The University of Texas at Austin studying the Wax Lake Delta, an actively growing delta on Louisiana's coast. Dr. Wagner's training is specifically focused on environmental fluid mechanics, but he branched out into statistics, geomorphology, and remote sensing, among other fields. He currently researches fluid and sediment partitioning through deltaic systems as well as geomorphic change on coastal systems. He enjoys a good problem, great colleagues, and a better world.
Dr. Wagner teaches undergraduate fluid mechanics through the civil and mechanical engineering departments, He holds a Master's degree in secondary math education from the University of New Orleans. His educational interests focus on teaching new ways to think. He has taught numerous classes (and taken quite a few more), and he feels that the best all focus on the students' cognitive development. Students always ask how they'll use specific facts, and he believes that they often will not use them. However, within a given discipline, the best educators teach how to think, analyze, and synthesize. These skills are useful, regardless of the student's future. Dr. Wagner strives to develop these skills in his students.
Research Interests
Physical processes in natural water
Environmental fluid mechanics
Geomorphology in coastal systems
Fluid and sediment hydrodynamics in deltaic system
Remote sensing