Richard Goodman
Associate Professor (Nonfiction)
Contact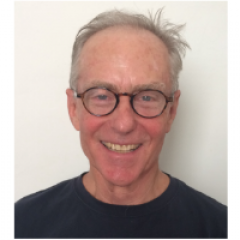 Education
M.F.A., Spalding University, 2009
About
Area of Specialty: Nonfiction
Richard Goodman is the author of French Dirt: The Story of a Garden in the South of France. The San Francisco Chronicle called French Dirt "one of the most charming, perceptive and subtle books ever written about the French by an American." One of Richard's proudest moments as a writer was to receive praise for the book in a letter from M.F.K. Fisher.
Richard is also the author of The Soul of Creative Writing and A New York Memoir. His latest book is The Bicycle Diaries: One New Yorker's Journey Through 9-11, with original wood engravings by the esteemed artist Gaylord Schanilec. The New York Times said that The Bicycle Diaries "has the weight of a small thing done with great care to honor a huge loss." The book is part of the permanent collection of the 9/11 Memorial Museum. Most recently, he wrote the introduction to The Electric Pencil: Drawings from Inside State Hospital No. 3 about the Missouri outsider artist, Edward Deeds.
Richard taught at Queens College and at Pace University in New York City while writing his four books. He has given readings of his work in California, Georgia, Massachusetts, Alaska, Florida, Alabama, New Jersey, Tennessee, North and South Carolina as well as in New York City and Virginia—where he spoke at Monticello on Thomas Jefferson's rivalry with Alexander Hamilton years before the hit musical, Hamilton. He spent a year living in the South of France in a small wine-making village, and out of this experience came French Dirt. He taught creative nonfiction writing for nine years at Spalding University's low residency MFA in writing program in Louisville, Kentucky.
Richard has written articles and essays for Harvard Review, The New York Times, Creative Nonfiction, Ascent, Chautauqua, Michigan Quarterly Review, Vanity Fair, French Review, River Teeth and The Writer's Chronicle—where he has published six essays on writing.
For the last two years, Richard has raised money to take his graduate nonfiction students on a guided tour down one of southeastern Louisiana's bayous. Afterwards, the students write about their experiences and observations. He hopes to continue those excursions annually. He also created Storyville, a collaboration with WWNO radio, New Orleans' local NPR FM station, where MFA students wrote and read original stories about New Orleans.
Selected Publications
French Dirt: The Story of a Garden in the South of France (Algonquin)
The Soul of Creative Writing (Transaction)
A New York Memoir (Transaction)
The Bicycle Diaries: One New Yorker's Journey Through 9/11 (Midnight Paper Sales)

You can read a sampling of Richard Goodman's published works in ScholarWorks.