Reggie Poché, MFA
Instructor and Associate Department Chair
Contact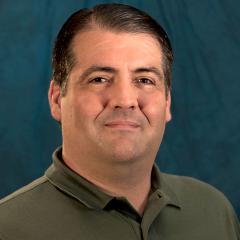 Education
MFA, University of Missouri-St. Louis, 2005
About
Reggie Poché, a tenth-generation Louisianian, was reared in the town of Garyville, where he and his fellow triplet brothers spent the greater part of their youth proving that they were more different than alike. That would explain why one brother became a scientist, the other an artist, and Reggie a writer and teacher. If the zygote hadn't split, the scientist is fond of saying, Reggie would be a pretty dynamic person. Reggie humbly agrees, but is nevertheless content to tinker with words.
After receiving his B.A. in English from UNO, with University and Departmental Honors, Reggie moved northward, up Interstate 55, for graduate study at the University of Missouri—St. Louis. After receiving his M.F.A. in fiction writing, Reggie moved home to UNO, where he now teaches Freshman Composition, Technical Writing, New Orleans Literature, and Introduction to Fiction Writing. He also serves as faculty co-advisor of Ellipsis, the university's student-produced literary magazine, which is entering its fortieth year of publication.
His short stories have appeared in Zahir, Margin, Ginger Hill, River Styx, and other publications. His most recent work appears in the anthology Where We Know: New Orleans as Home, published by Chin Music Press, and he has a story forthcoming in the inaugural issue of Gris-Gris, a journal of art and culture published by Nicholls State University. He is known to work on a novel, tentatively titled Grand Terre, and continues to fiddle with a story collection that began with his graduate thesis. In 2005, he won the Margery McKinney Short Fiction Prize and was nominated for the Pushcart Prize and Best New American Voices.