Pat Austin, Ph.D.
Professor and Graduate Coordinator
Director of Children's Literature Library Collection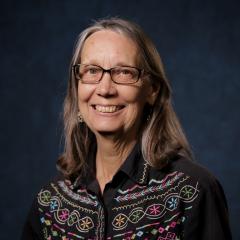 Education
Ph.D. Curriculum & Instruction, University of New Orleans,1987
M.A.T. Elementary Education,University of New Hampshire, 1973
B.A. Philosophy, Agnes Scott College, 1972
About
Pat Austin, Professor of children's literature, is the author of more than forty articles in educational journals, hundreds of book reviews, and a picture book, "The Cat Who Loved Mozart". Her research interests include trends and issues in literature, creative processes of authors and illustrators, and classroom practices. Her twenty years of classroom teaching spans second through eighth grades and covers the gamut from self-contained to reading specialist to gifted education. A former editor of the Journal of Children's Literature, she is currently on the Notables Committee for Language Arts and has been the children's book review columnist for the Louisiana reading journal for ten years. She frequently presents at the International Reading Association, National Council of Teachers of English, regional conferences, as well as local in-service workshops for teachers and librarians. One of her all-time favorite activities is reading to children.