Kalo Gow
Assistant Professor
Graduate Coordinator
Contact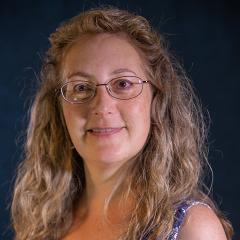 Education
M.F.A. in Acting, Masters Diploma in Voice, Masters Certification in Movement from York University in Toronto
M.Ed. in Creative Arts in Learning-Theatre Specialization from Lesley University in Cambridge
About
L. Kalo Gow holds an M.F.A. in Acting, Masters Diploma in Voice, and Masters Certification in Movement from York University in Toronto, as well as an M.Ed. in Creative Arts in Learning-Theatre Specialization from Lesley University in Cambridge. Kalo trained extensively with the Roy Hart Theatre in France; her academic publications include "Teaching the Totality of Self: The Roy Hart Theatre" in The Vocal Vision: Views on Voice by 24 Leading Teachers, Coaches and Directors, Applause Books.
Kalo cheerfully joins the faculty as an Assistant Professor of Voice and Movement in the Department of Film and Theatre at the University of New Orleans. She teaches graduate and undergraduate courses in performance, serves the stage vocal and movement production needs, and directs.
Kalo has worked as a professional director, educator, voice artist, actor, librettist/playwright, screenwriter, movement coach/choreographer, and vocal coach for theatre, film, television and commercial media in Canada and the US since 1988. Kalo has been fortunate to work with theatre companies such as: Will Geer's Theatricum Botanicum in Topanga, Playwright's Platform in Boston, Centaur Theatre in Montréal, Roy Hart Theatre in France; with producers such as Mark Gordon, Roland Joffé, Hawk Koch, Michael Prupas, Steward Harding; and with institutions such as Randolph Academy for the Performing Arts, York University, Humber University, Concordia University, McGill University.