Fallon Aidoo, Ph.D.
Contact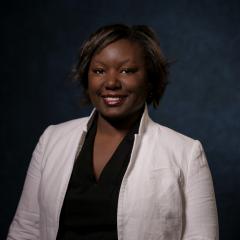 Education
Ph.D., Urban Planning (Harvard University)
M.S., Architecture Studies (MIT)
B.S., Civil/Structural engineering (Columbia University)
About
Fallon Samuels Aidoo, the Jean Brainard Boebel Endowed Professor of Historic Preservation, is an urban planning scholar, educator and practitioner affiliated with UNO's Urban Entrepreneurship and Policy Institute. Dr. Aidoo publishes and edits research on housing rehabilitation, neighborhood preservation, commercial revitalization and community development, particularly public-private partnerships, philanthropic investments, social entrepreneurship and grassroots stewardship. Her mixed-methods research on revitalization and resilience of the built environment appears in Preservation and the 21st Century City (forthcoming), Future Anterior: The International Journal of Historic Preservation History, Theory and Criticism (forthcoming), Preservation and Social Inclusion (Columbia UP 2020), The Encyclopedia of Greater Philadelphia (Rutgers UP 2017) and Spatializing Politics: Essays on Power and Place (Harvard UP 2015).
A recipient of engaged scholar awards and public scholarship fellowships, Dr. Aidoo serves on numerous planning boards, design juries, preservation commissions, and conference organizing committees—currently in New Orleans and previously in New England. She also advises the developers of public financing models, private investment practices, philanthropic aid programs and entrepreneurship support for places preserved by people of color, low-income households and low-margin businesses. Her work at the intersection of preservation education, research and practice was recently recognized by NextCity Vanguards, AIA Women in Architecture, and curators of the traveling exhibition Now What? Advocacy, Activism and Alliances in American Architecture since 1968.
Dr. Aidoo previously worked in the field of architectural restoration and retrofit—as an engineer, designer and educator. She remains engaged in the practice of adaptive reuse through teaching urban design and historic preservation at UNO, participation in the Louisiana Universities Resilient Architecture Collaborative (LURAC) and consulting on the redevelopment of historic districts, corridors and places. Dr. Aidoo, who exceeds the U.S. Secretary of the Interior's Standards for Historic Preservation professionals, holds a PhD (Urban Planning, Harvard), MS (Architectural History, MIT) and BS (Civil Engineering, Columbia).
Courses Taught (at UNO)
History & Theory of Planning
Urbanism and Urban Design
Site Planning
Gentrification in Historic Districts
Introduction to Historic Preservation
Urban Theory Doctoral Seminar