First Year Experience staff are dedicated to helping students get the most out of their college experience. First year students (those under 30 credit hours) will receive one-on-one attention at least twice per month from a coach who is committed to student development and success. Students who participated in Success Coaching in Fall 2017 (3 or more meetings) had a .36 GPA higher than those that did not. Coaches work closely with academic advisers and other resources across campus to support students in achieving their personal, academic, and other professional goals. Our Success Coaches work with students in the following areas in order to help them maximize their college experience:
Improving effectiveness in and out of the classroom
Connecting students to the campus community
Building leadership skills
Creating balance and managing stress
Boosting self-confidence and developing goals for the future
Many others!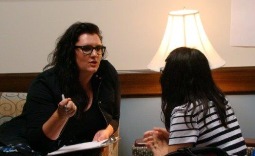 If you are not a first year student, we recommend taking advantage of our personalized academic consultations. FYE offers undergraduate students an opportunity to meet one-on-one with a Student Success Counselor to review and make improvements to their study and personal success habits. These consultations, which are free and available only to current UNO students, involve assessing a student's need and developing a plan of action for reaching the student's academic goals.
Testimonials
Read testimonials from students who participated!
"My coach highlighted the foundation for success in college."
"My favorite aspect of success coaching is having someone to talk to about school and my progress without judgment."

"My favorite part of coaching was the flexibility and openness I was given to share thoughts and concerns. It definitely helped me to become comfortable in meetings and on campus."
"I liked the way that the program allowed me to be able to get help with potential problems that I may have been experiencing."

"My favorite aspect of coaching is having a set time and place to be able to ask questions and not having to run around trying to find the right person to ask."