IDS Distinguished Alumni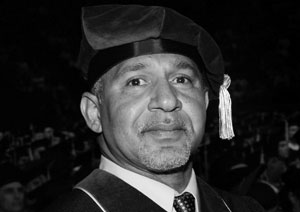 Gerard Williams, Ph.D., L.P.C. 
(Ph.D. Counselor Education '15)
The Assistant Director of First Year Advising at the University of New Orleans, Gerard Williams, took the long and winding road to success, a path not uncommon for IDS students. After graduating from St. Augustine High School, Williams chose to attend Loyola University in New Orleans. Like many of the students he has encountered as an academic advisor at UNO, Williams burned out on school and withdrew from Loyola in his junior year. He had become friends with Sallie Mae and had met his wife-to-be, but he had earned no diploma. At that point, he had no intent of ever returning to higher education.
Williams settled happily into married life and became the proud father of two children. He worked for UPS for 21 years until an injury forced his early retirement. A short stint as a disciplinarian at a local K-12 school and an experience with a suicidal student made Williams realize training would be necessary if he intended to continue working in an educational setting.
Williams began the process of completing his bachelor's degree in 2002. Like many adult students, he found returning to school intimidating. He visited several universities and was repeatedly disappointed to learn that most of his Loyola credits were not transferable. Essentially, he would have to start all over again. He might have given up had he not discovered the Bachelor of General Studies program (now IDS) at UNO, where his Loyola credits were both transferable and applicable. Suddenly, he was on track to graduate after a 22-year hiatus.
After receiving his Bachelor of General Studies degree in May 2004, Williams immediately matriculated into UNO's Master of Counselor Education program. He applied for and was awarded a job in IDS as an advisor. He completed the Master's program in 2007 and continued working toward his Ph.D. in Counselor Education, which he achieved in 2015.
In July 2013, Williams became the assistant director of the newly-formed Office of First Year Advising. He remains happily married and has proudly watched both of his children graduate from UNO.
Gerard Williams exemplifies traits often displayed by IDS students—a burning desire to complete a degree started years ago coupled with a compelling need to grow and achieve more than he ever thought possible. IDS played a pivotal role in Williams' education and his life, and now he plays a pivotal role in the education and lives of countless UNO students. The Office of Interdisciplinary Studies is proud to call Dr. Gerard Williams our own.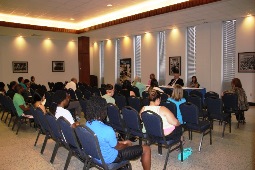 Alumni Spotlight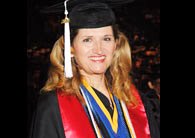 Edie Talley - Class of 2014
"Young students often focus on existential questions of "Who and what do I want to be?" As an adult student and lifelong learner, I had already answered those questions. My question was: "What do I want to DO?" The answer was EVERYTHING! I thrive on new experiences and my IDS concentration in Leadership Styles & Studies gave me the agility, adaptability, and confidence to blaze fun and challenging career paths."